Ani Shlishi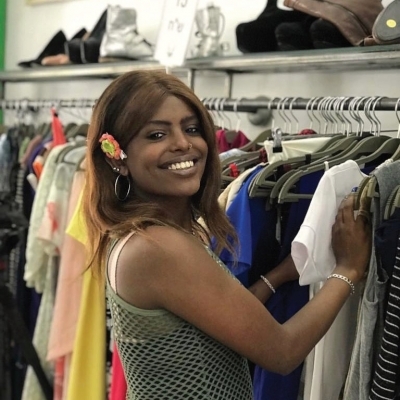 Two innocuous second-hand clothing stores, one in down-town Tel Aviv and the other in Rishon Lezion, have presented at-risk youth in Israel a chance to discover meaning to their lives and learn valuable job skills at the same time.

Ani Shlishi, founded four years ago, is a nonprofit organization that trains vulnerable young people to work as part of a team, and discover that they have self-esteem, persuasiveness and other employable skills. Six to eight youths are taken on at a time, and commit to three five-hour shifts a week for a period of six months during which they are paid salaries slightly above minimum wage. They help to sort and hang clothes and then learn how to use the cash register, handle the money and advise the customers.
David Baskin, one of the co-founders of Ani Shlishi, was drawn to the idea because of his own personal history. Growing up in Chicago, by the age of 17 he had already been arrested for minor offences. Lost at school and looking for direction, his baseball coach Ross Freeland did batting practice with him every morning. "This daily 30-minute ritual improved my low self-esteem", says David, who managed to graduate high school and college in the US and then immigrated to Israel and joined the army as a lone soldier in the Garin Sabar program where he combined military service with a kibbutz program.
"After two years our group accumulated a lot of clothing they didn't need. I gathered it up, rented a car and brought it to Tel Aviv where I donated it to Beit Hashanti, a shelter for youth with problems. It was a powerful moment for me to see how these youths jumped enthusiastically on the clothes that I took for granted." David said it reminded him of his connection to his coach Ross, who changed his life.
Now youth between ages 16 and 18, coming from all over the country and from all socio-economic groups can join the Ani Shlishi program. They are directed to it by youth shelters, schools and municipalities.
"They have a choice", says David. "If they've dropped out of school, they can go to boarding schools (pnimiot), or sign up with organizations like ours. There's been a spike in youths at risk from low income and vulnerable immigrant groups.They come with a myriad of issues, abused by their family, living on the streets and often battling various addictions. We teach them how to accept responsibility. They are not forced to do anything but we provide them with a positive role model. We find that they are thirsty for guidance. Adopting responsibility is subconsciously like an addictive drug for someone who has been out of control for most of their young lives."
The youth are interviewed and very frequently they will say "Hi, I'm Ori and I'm a youth at risk." Ilan Kedar another co-founder continues.
"We tell him…no, you are not a youth at risk. You are Ori looking for a job. Many of these kids arrive on our doorstep after they have had other jobs where they have been fired or left. Once they have been accepted into the program they undergo a week of orientation learning the nuts and bolts of keeping a job: getting to work on time, how to present the clothes they are trying to sell, customer service, how to communicate with the outside world, and how to work the register." Kedar says that after six months you can tell they feel part of a team and care about the clothing sales. Many of the youth have established relationships with customers, the first normative relationships that they may have had in their young lives.
Exceptional trainees are upgraded to the shift manager program where they learn to be a liaison between management and the youth on shifts and learn to train new staff.
"Once the six months are up, we help them to find other jobs, and then how to give a convincing interview and tell their story in an empowering way. One of the benefits from the corona period when our shops were shut was that we used this time to train our young staff how to find other work. Our graduates learn to tell potential employers that they succeeded with us and that they will work just as hard in their next job," according to Kedar.
Many graduates go on to serve in the army and there is a popular alumni group. Approximately forty youth have finished the program so far. Many of them have found ongoing jobs in customer service industries. One even joined a dance group. All graduates receive a scholarship at the end of six months that they can use to help them in their further lives. One graduate used the money to open a shelter for women at risk.
The founders hope to open more branches of Ani Shlishi throughout the country. There is a waiting list to join the program. The success rate is high although a few still fall by the wayside by showing up late for work, or not coming at all. The managers tell them to drop out and call if they want to resume the job. All profits from the two shops are reallocated to those in need and the public is asked to donate used clothes.
Upon entering the Allenby Street store, you can see the stock is both ample and sellable. Shelves and hanging rods are crammed full with jeans, jackets and accessories.
Ani Shlishi (I am third) is named after the philosophy David Baskin learnt from his batting mentor Ross Freeland. "First comes the greater good, the welfare of others is second and I'm third."
"Nobody can make me inferior without my consent" is the lesson that these youths come away with, according to founder David Baskin.
And to think that it all started with a pile of old clothes…
Ani Shlishi stores at 84 Allenby Street, Tel Aviv and 47 Rothschild Street, Rishon LeZion. More information found at www.anishlishi.org
Comments
No comments made yet. Be the first to submit a comment