KitePride — A Project for Former Sex Workers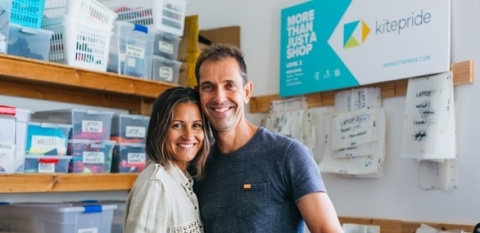 "We don't need pity, we need jobs," a prostitute told Tabea Oppliger six years ago in Zurich. From then on, Oppliger and her husband decided to help eradicate female trafficking and prostitution. Now twelve people who used to sell sex on the street are now selling bags instead, made out of recycled, lightweight kite materials in a workshop in Tel Aviv and the label on the bags says KitePride.

Oppliger says she saw a girl walking down the street and a few meters behind her was her pimp. He kept telling her she had to go to work. Oppliger asked her if she was working as a prostitute and if she wanted to do this. She remembers that the woman approached her wanting to kiss her baby girl. The woman revealed that she had three children and she did not know where they were. She had been lured into Switzerland on the promise of a job that didn't exist.
Oppliger remembers that her involvement in this social cause started right there on the Zurich street, after which she and her husband persuaded corporations to donate funds to help these women. Quickly she realized that the women needed to be gainfully employed if they were to leave their old profession. The couple thought to operate from a third world country, but Israel beckoned even though the couple is not Jewish. According to Oppliger, her husband visited Israel as a tourist and quickly fell in love with Tel Aviv, texting her "We are moving here!"
Israelis pointed out the problems of human trafficking in Tel Aviv. However, the Oppligers felt that Israel was more conducive to their KitePride project due to its image as a start-up nation, an innovative country where it was easier to take a risk than in Switzerland, a country still mired in old-style European bureaucracy. Doors opened, and the couple was granted volunteer visas for three years.
Now, in a workshop in Tel Aviv, twelve former sex workers are employed making bags, computer holdalls and kippahs out of recycled high-quality kites, surfer materials, yacht sails and wetsuits. The products are modern, bold colored and very hard-wearing.

"KitePride is a win-win idea," says Tabea Oppliger. Recycled damaged or worn-out high-performance materials are made into products that people want to buy. Adi Degani, a kitesurfer since 2010, says she loves the idea that her kite does not have to be taken out to the trash. "It's made into something else, which is very good for the environment." Everyone who donates material receives a free bag. Oppliger emphasizes that they describe KitePride as a second wind for kites and also for people in all their publicity.
It's the people of KitePride who understand what that second chance means. Joseph, from the age of 15 to 35, sold sex on the streets as a woman. His dream was to be a fashion designer. He learned how to sew, left the sex trade, reverting back to being a man and drifted towards KitePride. He brought a sewing machine, and in the evenings made clothes with his own label. Since then he has won prizes for his designs and was one of six independent designers to show his own label at a recent Tel Aviv fashion show.
Saida [not her real name] was born into a Palestinian family, in which the father walked out when she was born because he wanted a son. At an early age she had to help raise her siblings, including putting her brother through school. She endured an abusive arranged marriage to an Israeli who turned out to be a drug addict. Saida says that KitePride is the first place she has ever felt like she was included and wanted. She also says that now she has a skill, a job and a family that she knows she can depend on and who will always treat her with love, dignity and compassion.
There are thought to be some 14,000 men, women and children engaged in the sex industry in Israel. Most are trapped and unable to leave because of crippling debt and lack of workplace skills. KitePride has instituted a care-fund based on sponsor donations that ensures their employees are fed, offers therapy to help overcome past traumas, and pays their medical bills. The fund also offers support for formal education and expansion of work skills. KitePride employees receive a hot lunch every day, babysitting facilities if they need them, and health insurance, besides a proper living wage for the work they do.
Covid 19 restrictions have meant that KitePride sells more of its products online nowadays, although the absence of Israel's tourist market has cut into their profits. Tabea Oppliger says that a Channel 11 television report on KitePride after the main news in the first weekend of the lockdown gave a big boost to sales. Most of the bags nowadays are brought by local customers.
A total lack of government aid means that KitePride has still not been able to expand its workshop. Oppliger says they want to continue their support but do it in an all-encompassing way, providing the necessary help that former sex workers need, so the firm is being kept small in the meantime. The energetic-focused couple from Switzerland don't plan to leave Tel Aviv soon but are in the process of starting another KitePride project in Holland, a place Oppliger says, has many sex workers in need of help as well.
KitePride,
11 Shocken Street, Tel Aviv
tel: 054 705 0560
This email address is being protected from spambots. You need JavaScript enabled to view it.
Comments
No comments made yet. Be the first to submit a comment