The Brooklands Museum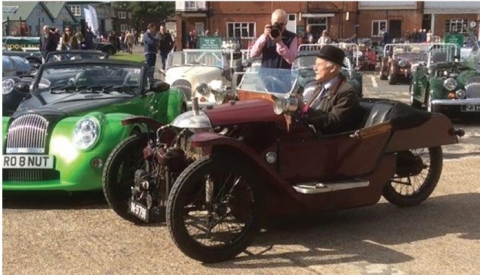 In the late 1950's when I was a child in Caerphilly, South Wales, we used to collect car numbers. We became proud owners of bursting exercise books boasting lists of hastily scribbled number plates, usually 3 letters followed by 3 numbers.

In retrospect, I cannot fathom why, but I recently realized that nowadays, at almost 75 years of age, when there is so much I cannot remember that I should, the number plate and make of the family car of well over 60 years ago is firmly embedded in my memory box – a wine-colored Vauxhall Wyvern, car registration plate TNY 228.
Absolutely amazing, considering that even 50 years after making aliyah I still cannot remember my Israeli identity number nor my 4-digit credit card code.
During the same period as the car spotting and jotting, another young friend was an avid train spotter. We would risk life and limb climbing over a high fence to get down into a valley where we could hide in the bushes close to the main train tracks. As the trains approached, he would pop his head up from the underbrush, yell out the number of the huffing and puffing approaching steam engine, then duly jotted down by yours truly – the first of many pre-aliyah secretarial jobs, one could say!
Whether either of the above led to my insatiable appetite to ride in old – sorry, vintage – cars and steam trains, I cannot say, but whenever visiting Britain, I never turn down an opportunity to do either. Last year I joined a cousin, the proud owner of a number of vintage vehicles, for a day out at the Brooklands Museum in Weybridge, Surrey.
The occasion was a day dedicated to Morgan sports cars where, after roaring in to the allotted display areas, owners of scores of super spruced-up, highly-polished metallic maidens literally bristled with pride and joy. Some of the drivers were as colorful and flamboyant as the cars themselves, sporting headgear the likes of trilby and bowler hats, tight-fitting Biggles-type leather caps with ear flaps and thick goggles, and one fellow was in top hat and tails.
For me, Weybridge had always been associated with homes of wealthy and famous folk, the likes of John Lennon, Ringo Starr, Cliff Richard, Elton John and fellow Taffy (Welshman) Tom Jones, but since visiting Brooklands, the birthplace of British motorsport and aviation, and the site of many crucial engineering and technological achievements throughout the 20th century, my awe gearbox has switched tracks.
The sprawling complex that is the Brooklands Museum is a pure adventure park for those who love cars, motorbikes, pedal bikes, petroliana, aircraft – including the only Concorde on display in the U.K. – and oh so much more, to be found in expansive outdoor arenas, large buildings and gigantic hangars. Also to be found on site is the London Bus Museum, housing the largest collection of privately owned London buses (1890s to 1970s) anywhere. Throughout the ground floor of the extensive 1907-built clubhouse, one can view extraordinary collections of transport-related memorabilia.
One should also mention that Brooklands is the site of the 1907 purpose-built motor racing circuit, the first in the world. It includes a horrific elevated curvy bend worthy of a Wall of Death funfair feature and sufficiently hair-raising just to look at, never mind to have navigated at maximum speed back in the old days.
Even if not normally turned on by any of the above, the sheer scale of Brooklands is absolutely gobsmacking, and for sure many items will pleasantly tweak any present day visitor's memory box. Who, for starters, amongst the older Brits anyway, isn't going to smile broadly when seeing a black and white Wall's Ice-cream bicycle? One can almost hear the young pedalling pedlar calling out as he rounds the corner of the street, grubby kids excitedly popping out of everywhere with a few pennies in hand to buy something from the Walls Pied Piper's stock strapped to the front wheel.
A much loved British racing driver, thought by many to be the greatest of all times, was Sir Stirling Moss (1929-2020).Born in London, his Jewish father was a dentist and part-time racing driver, whose own father had changed the family name from Moses to Moss. In his autobiography, Stirling Moss, the daring driver and popular media personality, tells of his being bullied at school for being Jewish, something he admitted in an interview to having never told his father.
Another talented Jewish British racing driver was Joel Woolf 'Babe' Barnato (1895-1948), the son of a 19th century mining tycoon who had changed his name from Barnet Isaacs to Barney Barnato. Also, in women's racing there was the infamous Sheila van Damm (1922-1987), who competed in motor rallies in the 1950s, winning the highest award for women, the Coupe des Dames, in 1953 – just three years after taking up competitive driving. She is probably better known by many as the more than colorful owner of the Windmill Theatre in London.
A visit to The Brooklands Museum offers the opportunity to see and wonder at the sight of compact to gigantic planes, and the huge number of large and small two- and four-wheeled modes of transport. You can also watch amazing snippets of old jerky black and white film, view faded sepia photographs, and take stock of the amazing achievements, then and now, of driven (excuse the pun) designers, engineers, and technicians, and the dare-devil drivers and pilots who risked life and limb testing the end products.
Comments
No comments made yet. Be the first to submit a comment