Supper Quiz Everyone Loved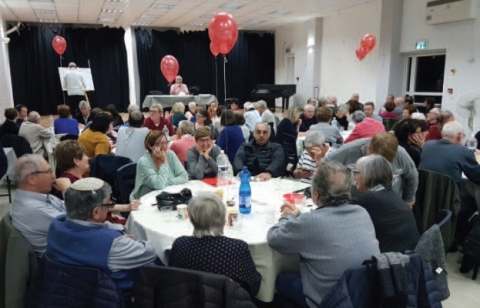 Photos by Gill Cole

Hanniel didn't prove to be too far away for 90 people keen to test their knowledge and have an evening of fun at the Beit Ha'Am Hall, kindly donated for the event by Chairman Ronnie Cole and his Committee of Moshav Hanniel. Once in the moshav, signs to the venue were clear and precise, nicely made and put up by hubby-helper Laurie Bliss, as we didn't want to lose anyone.
ESRA Netanya Events Committee, headed by Gill Cole and her trusty supporters, Jackie Benson, Barbara Kliner and Candy Bliss, organized a most successful evening the night before Valentine's, Thursday February 13th. Of course Netanya is lucky enough to count Quiz Super Master Neil Spungin amongst its members and who so kindly donated his services.
Doors of the Beit Ha'Am opened at 19:00hrs admitting the 90 people who had booked for this evening. There were nine tables set for ten guests each and table numbers were given to the participants upon their arrival. Each table showed a red balloon floating above it indicating the number of the table, so there was no confusion as to where to sit.
The soup was served by another hubby-helper Stephen Kliner, and Candy, with Barbara and Jackie manning the hot dogs, salads and potato wedges. There was help-yourself wine, hot drinks and biscuits to complete the menu. Gill was everywhere, making sure guests were getting their food and happy with their tables and just about everything else!
After eating, the fun began with a question sheet for everyone, just a warmer-upper for what was to come. Then the serious stuff began with another hubby-helper Ronnie Cole taking the stage with his scoreboard and the Quiz Master taking the microphone. Neil had cleverly prepared ten categories of questions, the first one aptly classed as "Love", followed by something for everyone, including "Music", Sport", "Science", to name a few. Each table had appointed someone to write the answers for them and the questions were read clearly and often humorously, as only Neil can do. Time was limited so we had to be quick-thinking before each category's answers were passed to the next table to be marked and handed in to Ronnie for scoring. A raffle also took place between rounds for an assortment of prizes.
At the end of the Quiz our winner was Table No: 8, but in truth everyone was a winner, as all the guests had a fun night out and ESRA had the benefit of the hard work by Netanya Events Committee and Quiz Master Neil Spungin.
Thank you to all those who supported the event and of course everyone who helped with its amazing success.
Comments
No comments made yet. Be the first to submit a comment