Stories Told in Fiber Art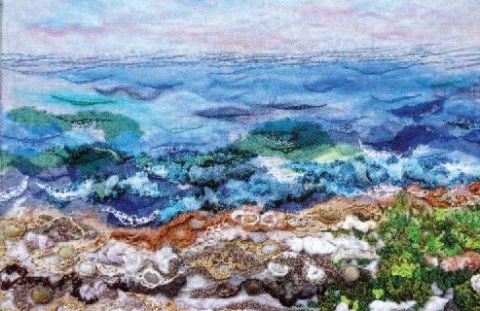 A professional linguist, who is also a busy ESRA volunteer, decided in her retirement to study an art form that had interested her for some years. The results of these studies were recently shown in a beautiful exhibition of fiber art - "Textured Memories" - at the Abba Khoushy Community Center Art Gallery in Haifa.
Helen Osimo is one of those retirees who wonders how she ever had time for a day job. She, together with Frankie Jaffe, coordinate the Haifa ESRA branch English tutoring program and her enthusiasm has recruited a record number of volunteers. She is also co-leader of the Moriah Masorati Synagogue Womens` Circle, organizing monthly lectures, this year on the theme of "beautiful Israel."
London-born Helen met her Italian husband Robby when she volunteered to work on a kibbutz during the Six-Day War in 1967. They fell in love, decided to marry and came on aliyah where they set up home in Haifa and started a family. They have two daughters living in Shimrit and Tivon, a son living in Cambridge UK, and 10 grandchildren. Robby worked until his retirement for Elbit Systems.
As the children grew from infancy, Helen studied English Literature and Linguistics at Haifa University and worked for 30 years at Oranim Academic College. In 2012 she achieved a PhD in Linguistics in the Field of Pragmatism which is Language and Interaction.
Always interested in art, Helen was drawn to textiles and she still travels regularly to Nahariya to study with whom she describes as an amazing teacher of fiber art. An old friend commented that this was in her DNA – her father had been a tailor and her mother a milliner. "Fiber art has evolved from the textile arts", explains Helen. "This includes tapestries, embroidery, weaving, knitting, traditions that have survived centuries. Modern fiber art refers to the use of natural and synthetic materials and today is a medium for telling a story, making a statement for example expression of feminist issues." She continues: "Traditionally fibers were taken from plants and animals but with the invention of synthetics, the selection is limitless. The material itself sometimes provides the inspiration for the work and experimentation is part of the process." The work is meticulous and time-consuming using techniques of dyeing, rusting, fusion of fabrics and fibers, free hand and machine embroidery, quilting, bead work and applique.
Walking into Helen`s exhibition in Haifa, one is struck by the use of color. Her work illustrates the beauties of Haifa where she has lived for over 50 years. This was followed by a memorable trip to South America and her later work was inspired by bio-ethical issues. Looking at the depiction of the Haifa beach, a favorite of hers, one sees not just yellow sand and blue sea but the myriad colors one discovers in the stones and shells and flora and the changing mood of sea and sky. The bio-ethical works present the dilemmas and controversies presented in the media. "A Chilling Story" tells of a group of male oncology patients who froze their sperm to ensure future fatherhood.
The liquid nitrogen was not of necessary concentration, the sperm died and the men sued the hospital for compensation – they lost the case. "Falling Leaves" depicts neurons as trees, damaged and healthy and is a protest of the use of drugs taken for performance enhancement. "The Grass Is Always Greener" exposes the ongoing battle for legalization of medical cannabis; "Stemming the Flow" represents the beneficial research on embryonic stem cells and the opposition from some parts of the world. "A Very Public Enterprise" was inspired by a talk by Nobel Prizewinner Prof. Chechanover when he discussed the ethical dilemma of expanding the understanding of the human genome and consequential loss of personal privacy.
All these works, woven in these varied fabrics and materials show a three-dimensional perspective which is often lacking in oil-painting and water-colors.
A small stone here, a tiny piece of lace there, add substance and meaning to issues that are not merely meant for decoration. They tell a story which inspires dialogue.
With over 70 people at the launching of the exhibition at the beginning of March, there has been a steady stream of visitors continuing throughout the month.
Comments
No comments made yet. Be the first to submit a comment