Our Names Do Not Appear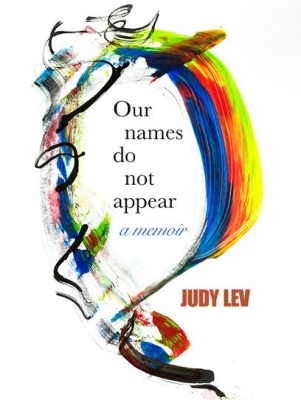 By Judy Lev (Labensohn)

Published by Lioness Books and Media, 2023

Softcover and e-book; 336 pages
Available from Amazon, Barnes and Noble; via Lioness Books or from author at book events. Cost: e-book NIS 37; softcover NIS 70, not including shipping
Reviewed by Carol Novis

In this extraordinary book, Judy Lev has blended imagination and memoir to create a unique account of her journey to discover a lost family history. It's a kind of layered detective story with cleverly worked-in references to many threads: biblical stories transposed to events in modern Israel; Mount Zion as a memorial, a hospital and a place, life and death; blame, and finally understanding and acceptance.
The peg on which it all hangs is the death of Lev's young brother Joey when she was only five. Although mention of this death is taboo in her family, she recalls it in horror when her own child, years later, suffers from convulsions. He recovers, but she is consumed by the need to find out what happened to her brother. Her memories are shaky. She recalls only snow falling "like macaroni", the Rabbi reading Psalm 23 and her childish interpretations of it, such as the fear death might be catching, and the mysterious disappearance of her brother.
Now grown up and living in Jerusalem, she writes that "In order to let go of the past, I need one" and undertakes a search for any details she can find.
Her parents are no help. Her mother, when asked about Joey, replies, "You mean the baby? Your brother? … It's balmy down here in Florida." Why does she refuse to face it? Judy is baffled.
Joey, it turns out, had cerebral palsy, was deaf and blind and at a certain point was sent to a "home", where at 14 months he died of pneumonia. In trying to discover more details, she contacts their rabbi, who, shockingly, had been the one to break the news to the children. He tells her what he remembers, but it is not enough. So she writes away for Joey's death and birth certificates and asks her kindergarten and first grade teachers what they remember. Why was death never mentioned? She even telephones the crematorium.
When facts are thin, she invents a fanciful, but beautifully written alternative history of Joey, who is stolen by his carer, "Lillian", and lovingly brought up by her. When Lillian dies, Joey, now 24, continues to live in Woody Haven, and eventually during the Yom Kippur War goes to help the Hebrews against Amalek.
Judy is initially hard on her parents, whom she sees as unfeeling, but the second part of the book is told from her father's entirely different point of view.
This is much more sympathetic and understanding of his later impatience. When the baby is born, he is 47 and his wife is 28. He is a working class "Jewish punk" son of Ukrainian immigrants. "The little fella has some problems...Everything was cockeyed. His son, a foul ball." He does what he believes to be the right thing; he doesn't tell his two daughters because he is informed by a book that disasters should be shielded from the young child as long as possible. Meanwhile his wife is traumatized and requires electric shock treatment.
Time passes. Judy leaves an unhappy marriage. She comes to understand her mother, whose distance was not lack of love but a desire for stability. And she herself, finds peace. Like Cain, her brother's keeper, she has "kept his name alive for decades and now I want him to rest." As the Talmud says, "weep not for the dead in excess."
Our Names Do Not Appear deals with grief and remembrance in a way that I've never encountered before. It's gripping and very readable, moving, and even amusing at times.
Highly recommended.
Comments
No comments made yet. Be the first to submit a comment