New Year – Timing Is Of The Essence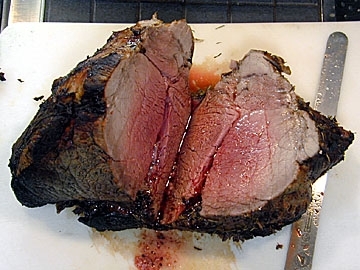 What is it about the timing of Rosh Hashanah? "Ooooooh it's late this year." Or "It's so early this year." "Why is it never on time?"
As for me, living here in Israel, it's all about the timing of the produce.
'Too early' and my favorite recipe using Victoria plums are not always in the stores yet. 'Too late' and my beloved delicious figs have vanished from the shelves.
Israeli farming techniques are improving every year. (Look how long strawberries were around for this past winter.)
This year I feel Rosh Hashanah is 'on time', so here are my recipes using the bountiful produce Israel has to offer.
I don't go 'off piste' with Rosh Hashanah – people want traditional.
I like to do traditional with a modern twist.
Slow Roast Beef Shoulder
Ingredients
2 kilo piece of beef shoulder
3 red onions
6 cloves garlic
1 cup Kiddush wine
2 tbsp soy sauce
1 cup chicken stock
2 squirts ketchup
Method
1. Preheat the oven to 200C.
2. Place the sliced red onions and peeled garlic cloves in the bottom of an earthenware pot.
3. In a jar, shake up all the liquid ingredients.
4. Place the meat on top of the onions and pour over the liquid.
5. Cover with a lid and cook for 20 minutes.
6. Turn the oven down to 160C and cook for a further 2 hours.
7. Allow to cool.
8. Slice and put back into the gravy.
Butternut Squash and Pomegranate salad
Ingredients
½ butternut squash peeled and sliced
1 pomegranate, deseeded (I do this in a bowl of water)
1 bag of washed baby spinach
1 tbsp pine nuts
1 bunch coriander
Dressing
Juice of half an orange
Juice of half a lemon
2 tbsp Silan (date syrup)
½ tsp coarse salt
Method
1. Spray the squash slices with oil and bake for 30 minutes at 180C.
2. On a flat platter, arrange the spinach and coriander.
3. Add the cooled pieces of squash and sprinkle with pomegranate and pine nuts.
4. Shake up the dressing ingredients in an empty jar.
5. Pour over just before serving.
Victoria Plum Crumble
Ingredients
12 Victoria plums, washed and stoned
Juice of ½ lemon
3 tbsp brown sugar
1 tbsp honey
Crumble topping
200g plain flour
120g block margarine
100g brown sugar
50g granola
50g Quaker oats
Method
1. Preheat the oven to 180C
2. Grease a 30cm ovenproof dish (I don't recommend using an aluminium foil tray because the plums are acidic and it can alter the flavor)
3. Cut the plums in half and place in the bottom of the dish.
4. Squeeze over the lemon juice and sprinkle over the sugar.
5. Rub the flour and margarine together, then stir in the other ingredients.
6. Spoon the crumble mixture over the plums, and bake for 45 minutes.
7. Check the topping is golden brown and the plums are bubbling.
8. Serve with pareve ice-cream.
Comments
No comments made yet. Be the first to submit a comment