Love Story in The Era of The Satellite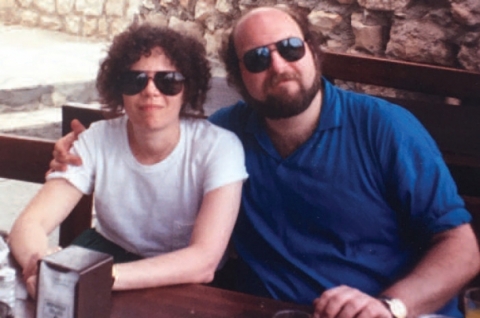 When the stars come out
And shine
They burn so bright
Drown the downtown lights
When the stars come out
When the stars come out
-- Lyrics and music by Chris Stapleton/Dan Wilson


The first time I was intimate with my future husband, we were six.
It was an August night in the summer of 1958. I had run from the violence of my family to a quiet place in a field, under the stars. Suddenly, Herb was there. He was the boy in the summer cottage next door. His family was like mine. He was looking for solace under the stars too.
"It's the most stars I've ever seen," I said. "There's the Milky Way, it's going across the whole sky."
"Maybe we'll be able to see Sputnik," he said.
"What's Sputnik?"
"It's a Russian spaceship. They launched it on my birthday, May 15th. Sputnik 3. It's traveling around the earth. Look for a moving light, maybe we'll be able to see it."
We spent a blissful eternity lying on our backs, alone together in the wet grass, enveloped safely in the dark under a brilliant sky. Every once in a while, we saw a light move. Was it Sputnik or a comet or a plane? We were a universe away from our families, and it was magnificent.

The second time I was intimate with my future husband, we were twenty-four. I was sitting with my terminally ill mother at Mount Sinai Hospital in New York City. I was with one of my revolving-door boyfriends who I didn't want to have a relationship with. Herb's mother came in to visit my mother, followed by her chauffer, Herb.
"So Herb, I hear you work here at Mount Sinai," my mother said. "What do you do?"
"Ach, it's terrible," his mother exclaimed. "He does research with rats. And with mice!"
"And that's not all," Herb wheeled around and snapped, "next week, I'm going to start working with …. cockroaches!"
In the midst of my misery, he appeared once again. We were transported to the night of Sputnik, two hurting children who were incapable of opening up to anyone but each other. We would be inseparable for the next forty years.
Every August, we re-created our summertime escape. We fled our jobs in Manhattan and disappeared into an off-the-grid, big-sky wilderness. One night in 1998 we were stretched out on a mountaintop in Montana, near Glacier National Park. We were looking up at one of the biggest skies we'd ever seen.
"I don't ever want to leave this place," Herb said. "I want to be here forever, just looking at this."
"What if we made this place somewhere else?" I asked him. "What if we found our own big sky closer to home? Like the night of Sputnik."
Before long, we were driving around the mountains of upstate New York looking for the perfect place. We found it just a few miles from our childhood cottages, a glass-walled, log cabin in the woods on a huge, private lake. No other people.
We spent every weekend and every vacation there, starting with the turn of the millennium in 2000. In the summer, we'd swim in the lake while eagles flew over us. In the winter, we'd walk on the ice in the pitch-black night, with only the moon and stars for light. Eventually, we left our city jobs and lived at the lake full time. We were alone together, with two big dogs.
Herb had a heart attack one January evening in 2016. I followed the ambulance through the dark, mountain roads to a hospital ninety minutes away. The stars were beginning to twinkle as the vehicles went up and down and around, up and down and around. I remembered that this was the second time I followed Herb in an ambulance on mountain roads. The first time was after he had an accident at Glacier National Park – the very vacation that inspired our move to the Catskill Mountains.
He had fallen and smashed his kneecap in a glacial stream. I followed the ambulance to a hospital in the Dodge RAM truck we had rented; it was so big that I could barely see over the steering wheel. The medic was watching me out the back window of the ambulance and asked Herb why I kept turning on my windshield wipers.
"She's trying to find the headlights," Herb told him.
Suddenly, my reverie was shattered. My car's dashboard lit up with a call from Herb's cellphone. I braced for bad news from the ambulance medic, but it was Herb himself.
"You should turn on your headlights, it's getting dark."
"I was just thinking about Montana!" I laughed with relief. "But this time I know where the headlights are. Lie down and stop watching me out the back window."
Herb recovered and took new interest in my lifelong wish to live in Israel – something he was always reluctant to do. His doctors told him it was safe to travel, and we came to Israel to start planning. But it wasn't safe, and within a week of our arrival he had another heart attack and died. I buried him near Jerusalem and purchased the grave at his side. I returned to the States, sold our piece of heaven on the lake, and made aliyah with Sawyer, our lone surviving dog.
Sawyer makes me light Shabbat candles every Friday night. Really. He knows that after a day of cleaning, there's always candles and singing and special food. That's how it's always been, and that's how it always will be. He whines and kneads his paws on the floor until I light the candles. Then he wags his tail and whimpers until I sing him Shalom Aleichem just like Herb did.
But it's Havdalah time that's really special. That's when the stars come out. That's when they shine.
One day, Herb and I will lie together on the cool ground once again. We'll spend another blissful eternity looking up at the stars over Israel. We'll watch for the moving lights of Space IL.
Comments
No comments made yet. Be the first to submit a comment