Klezmer Five Rock my Boat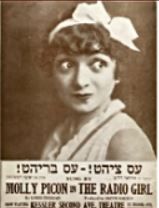 Klezmer music thrived in the Jewish world prior to World War II. The epicenter was primarily in Central and Eastern Europe and the Balkans as I illustrated in the movie Yiddle Mit'n Fiddle—starring Molly Picon, filmed in 1936 Poland.
The painting by Israeli artist Shlomo Schwartz entitled Klezmorim—which my wife and I used to own is about life in the shtetel. Both depict musicians travelling from village to village trying to scratch out a living. After the war, the few surviving Jewish klezmorim joined with Gypsy klezmorim playing at weddings and other special occasions. That was the beginning of the Klezmer Revival.
When I think of Klezmer music, a few names from the current talent pool of performers comes to mind. Sorry, if I left out some of your favorites, but here are my picks:
Yale Strom: American violinist, composer, film maker, and an authority on Klezmer music. He did extensive research on klezmer, going personally to the source to gather information within the Jewish and Roma communities. I have a couple of his CDs, featuring Strom on the violin, his band Hot Pstromi, as well as his wife, Elizabeth Schwartz, as soprano. I also have one of his full-length videos, The Last Klezmer, about Leopold Kozlowski, a Holocaust survivor, since passed away. I invite you to look him up on Google.
Itzhak Perlman: A genius on the violin, a conductor, and a teacher. He is the star of the video In The Fiddler's House. Btw, Kozlowski is in this video too. The video takes us musically from New York's Lower Eastside to Cracow, Poland. You get to hear lots of Klezmer music played by different bands...and surprise, surprise, Itzhak gets into the Klezmer mood. Check it out on YouTube.
Hankus Netzky: Plays multiple instruments, is a composer, and an ethnomusicologist. He is the founder of The Klezmer Conservatory Band, based in Boston. He serves as Research Director of the Klezmer Conservatory Foundation, a nonprofit organization dedicated to the preservation and perpetuation of traditional Eastern European Jewish Music.
Alicia Svigals: An American violinist and composer. A co-founder of the Grammy Award winning band The Klezmatics. She is probably one of the world's foremost living klezmer fiddler players. Born in the Bronx, New York in 1963, she studied ethnomusicology at Brown University in Providence, Rhode Island. The BW and I heard her and Chava Alberstein together at The Bergen Performing Arts Center in Englewood, NJ. Coincidence...Lenore and I are originally from the Bronx and Alicia's aunt went to the same high school Lenore...they were friends. Naturally we went backstage to chat with her. Yes, Alicia is also in In The Fiddler's House. These days Alicia plays with the All-Star klezmer ensemble Mikveh, a group she founded. In the past, she worked closely with Itzhak Perlman, Tony Kushner, Chava Alberstein, Debbie Friedman, and many others.
David Krakauer: Clarinetist Krakauer is an expert in klezmer music. He is equally expert in playing classical music, jazz, chamber music, Dixieland, and so on. He played with The Klezmatics. And he is also in In The Fiddler's House with Itzhak Perlman and Alicia Svigals. Krakauer is also a classically trained clarinet virtuoso.
What could be better than listening to some hot klezmer music? Maybe listening with a Hot Pastrami on Rye and a cold glass of beer.
Comments
No comments made yet. Be the first to submit a comment