In the Footsteps of Our Founders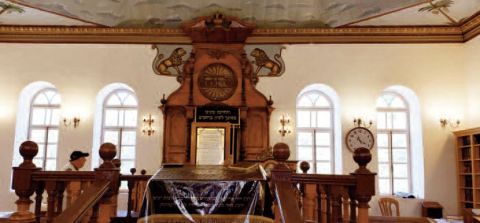 Photos: Annie Feldheim, Joseph Kaplan, and Wendy Blumfield
Those of us living in the north are blessed, being at the gateway to some of the most beautiful locations in Israel. It is a landscape of green pastures and orchards, spectacular mountains and valleys covered with rich farmlands and water sources.
The Galilee is also rich in history, for many of the pioneers who participated in the rebirth of the Land of Israel at the turn of the 20th century founded the picturesque towns and villages that now dot the hillsides in that area. And it was the idealistic founders who drained the Hula swamps, forested the mountains and established the first communal farms, the kibbutzim.
After a stormy Pesach, May 1st heralded the spring, and on a brilliant sunny day we started our trip in Haifa. We also picked up at Hof Hacarmel train and bus stations to enable members to join us from other coastal towns and the Emek, and made our way to Karmiel and on to our first stop at Rosh Pina.
The trip was fully booked with 35 members, mostly from Haifa and Karmiel. This was more than I had handled on our previous two northern trips, but ESRA member Irma Zaslansky, who is a licensed tour guide, volunteered to accompany us. Not only was her information about the history and geography of our journey full of interesting details previously unknown to us, but she was a great help in keeping everyone together and making sure that we did not lose anyone on the way.
I am very pedantic about planning, but there are always last-minute surprises. As our bus wound its way up the steep main road of Rosh Pina to the Founders Museum, a site that I had been to previously with easy parking and few steps, a large signpost barred further access to buses. So we had to walk up a steep cobbled slope and a long flight of steps to reach the museum, not an easy climb for some of our group.
The Founders Museum is situated in what were the Rothschild's offices. Rosh Pina, originally named Gai Oni, was established in 1878 by eighteen religious Jews from Tzfat who decided to start a Zionist farming enterprise there. They wanted to be self-sufficient, independent of European Jewish philanthropy, but failed after three years. In 1882, during the First Aliyah, Moshe David Shuv arrived in Jaffa and went searching for the ideal spot to settle with forty families from his Romanian village. When he reached Rosh Pina, still called Gai Oni, he declared that this was the ideal mountain location with its natural water sources. The local Arab landowners needed money to pay the Turks to keep their sons out of the army, so were prepared to sell land to the Jewish immigrants and teach them their farming skills. At that point Baron Rothschild adopted the village, helped them build a large beautiful synagogue that still stands today, and provided the villagers with livestock, conditional of course on the rules of his overseers.
Today Rosh Pina is an exquisite hillside village preserving many of the historic stone buildings, with a spectacular view over the Hula, the Golan and the Sea of Galilee. Many of these beautiful old houses, with their shady and verdant gardens leading from the cobbled streets, have been restored as boutique hotels, restaurants and art galleries.
Our next stop was Woodsong, a workshop owned by South African immigrant Peter Isacovitz. Managing to seat our large group, he presented and played the many diverse musical instruments that he has made out of wood, much of it recycled timber that he found or was given. He is especially passionate about African instruments and produced amazing sounds from these beautifully polished pieces, as well as harps, wind and string instruments. After showing us many examples of his work, we all sang "Greensleeves" to his harp accompaniment.
Our final stop after lunch was another heritage center founded by the Dubrovin family in 1903. Immigrants from Astrakhan had chosen a location near Yesod Hamaala, a village founded by Polish Jews in 1883 and on the edge of the Hula swamp. Andrey Dubrovin and his family were Subotnicks, Russian Christians who observed the Jewish Shabbat and the Torah and had converted to Judaism.
Andrey changed his name to Yoav, and he and his wife Rachel dug a well and established the Dubrovin farm. Besieged by malaria, to which they lost many children and grandchildren, the family moved to Rosh Pina, but his son Yitzhak continued to manage the farm until 1968, when he handed it over to the Jewish National Fund to be used as a museum and heritage center.
Built round a courtyard, the farmhouse has spacious and high-ceilinged rooms. It was fascinating to look at the furnishings, the tools and kitchen utensils that were used to run the farm and the household.
Two generations on, it was interesting to see a steam iron and sewing machine that were familiar from our own grandparents' homes.
This trip gave us a look at the past that gives us great pride and a sense of achievement, as well as many lessons for the future, perhaps a return to simplicity and modesty. But it is obvious from the history of these early founding settlements that there were plenty of arguments and disagreements among their leaders, as conflicts of interest arose. Together with the harsh climate and the conditions in what was still a barren and uncultivated land, it is a miracle that a century later, Israel today sends agricultural and technical, medical and scientific experts all over the world to give aid to developing countries.
Comments
No comments made yet. Be the first to submit a comment