Funfair got me hooked on ESRA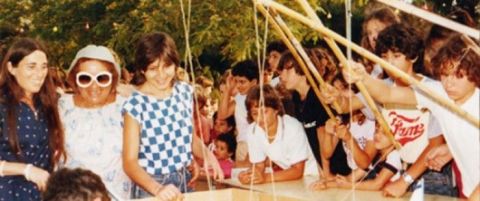 Very dear Merle,
I spent this morning at the ESRA office, labeling, bundling and stuffing magazines and then delivered most of the ones in MY bundle on the way home. Now they have all been delivered and, while eating my lunch, I began reading your very interesting article describing the beginnings of ESRA in Magazine no. 199.
My own relationship with ESRA began in the Spring of 1986 when I moved from the Absorption Center in Karmiel to Herzliya. I lived right across the street from Yad Lebanim in Herzliya. My lift had just arrived and the apartment was full of unopened cartons. I looked out the window and right there - on the grounds of Yad Lebanim - was a festival going on. Needless to say, I had no idea what this was but I went outside, and crossed the street to find out what was going on. Some manner of tool was needed by the volunteer, Jeremy Shochat, and I came back into the house to see if I could find what he was looking for. (Thank goodness my cartons were marked and I was able to find what he needed.) That was my first encounter with ESRA, an ESRA Funfair, and as you well know, I was quickly hooked.
ESRA and volunteering have become a way of life for me and, while I now officially work only two mornings a week (earning my keep), I now have more time for volunteering and I love it.
Reading through your article reminded me of the Ethiopian aliyah. It was on Thursday evening (which must have been May 24th) that my granddaughter and I were to go Ben Gurion airport for our flight to New York to attend a wedding. We were getting ready to leave when I got a call from a friend who was also to be on that flight, that our flight would be delayed until the next morning. No one officially called ME so I phoned the airport and yes, our flight was delayed by 12 hours. I asked why but got no reply. It was quite some time later that we finally found out what was going on and why our flight was delayed until the next day. Quite a story.
It's just amazing when I think back to the 1980's how ESRA has grown, how the magazine has changed, how very many activities are offered and how much fun it has been to grow along with such a great organization. I am so happy to be a part of it all.
I send you much love, Merle, and I thank you for sharing that beautiful article with all of us.
Inge David
Herzliya
Comments
No comments made yet. Be the first to submit a comment