ESRA's UK Expansion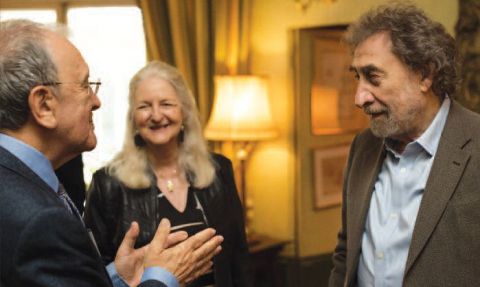 Regular readers of the ESRA Magazine will be aware of the tremendously successful event that announced the launch of ESRA in the UK last April. The evening, in the magnificent home of Sir Sydney and Lady Rosa Lipworth in St. John's Wood, London with our guest speaker, the renowned prize-winning author Howard Jacobson, is etched in the memory of the more than 130 people lucky enough to have attended.
The repercussions and the interest generated have been most encouraging and ESRA's work in the community is gradually becoming as appreciated and understood in London as it is in Israel.
But that is not the full story of spreading the word in the UK, as ESRA has also forged links in Manchester, where the congregation of the Menorah Synagogue in particular have shown great enthusiasm in cooperating with ESRA in several different ways. They have already held a special 'Dolce Vita' fundraising evening where the proceeds were dedicated to ESRA 'Students Build a Community' projects and together we are also working on ideas to link their own youth with some of the Ethiopian children benefitting from ESRA projects in Israel.
Following these introductions, we are now in the process of forming ESRA UK as a registered charity for fundraising in Great Britain. And we are deeply involved in the process of organizing our next event in September at the same magnificent venue, which will be graced by another wonderful and attractive speaker.
In ESRA, we believe that our message needs to be much more widely known in the outside world. We believe that the work we are doing to create an English-speaking environment for our members, to enable them to have the opportunity to volunteer in the wider community and to work towards the greater good of the whole of Israel through ESRA's many projects is uniquely beneficial to everyone – truly win/win – and that this is worthy of everyone's support.
The event in London came about as a result of our members knowing someone who knew someone in London who could help. This could be repeated in many other Jewish communities in the English-speaking world and we ask you our readers of this article to think how you can also contribute towards helping ESRA create a true world presence.
If you have any ideas about how to promote ESRA overseas, please contact Sandra at the ESRA office

Tel:099508371
Comments
No comments made yet. Be the first to submit a comment