Eilat Wins ESRA National Quiz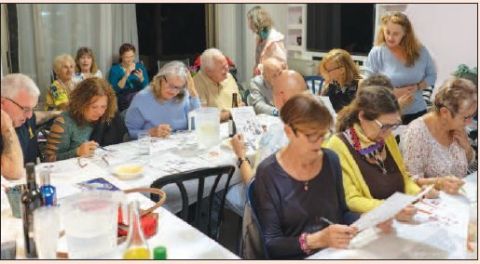 The 5 ESRA National quiz night was held in November 2018. This united the whole of the ESRA family for one night at 24 locations, with nearly 500 people who enjoyed a fun and challenging laugh every minute of the evening. This quiz has grown each year from a modest 10 teams to 24. There were teams from Nahariya down through Five Towns to the Sharon area and down to the tip of Israel, where Eilat celebrated into the night after winning the contest with 156 points. The questions were tough, but there was something for everyone. Our great thanks go to the question compiler David Shulman, who spent hours and hours trying to find the correct balance of questions. We had eight different categories of questions ranging from songs of the 1960's and 70's to the history of Israel.
ESRA's social club for young adults with cerebral palsy will receive the funds from the Quiz. We use a room at the Weil Center free of charge with the compliments of the Kfar Shmaryahu Local Council. ESRA pays for the social worker for this lovely, happy group of young people who attend the club once a week, which gives their parents respite from their stressful lives. ESRA also pays for the transport for these young people, transporting them from their homes in different cities in the central district of Israel.
Comments from various teams
Carolyn Davies, chair of ESRA Eilat
'It is such a great thing for Eilat to have won the quiz, as we as a city feel very neglected by central government and forgotten. This has shown we do all have something to contribute and we are very much part of Israel, despite so many people claiming Eilat is not really Israel.
We raised NIS 1625.
Adele Hunter, Raanana
Everyone had a great time and even if we couldn't answer some of the questions, it didn't matter.
Sandy Leigh – Mimi's Marvels Herzliya
We had a good laugh and a good variety of team members as well as a lovely cheese and wine spread from our lovely hostess Mimi. Questions were of varying degrees of difficulty, which was good for all our players pulling together as a team. Thank you to the team.
Michael Altman, Netanya
This was the first time I read the questions out loud. I could see the reactions and change the approach to get wider smiles. What I did notice was that people were happy to be there and I think found the questions interesting. I was amazed at who knew what and that in itself gave some people who seemed on the quieter side get deserved recognition and it made them feel good.
Baruch Tanaman, Raanana
The Quiz was great fun and this year team Raanana/Tanaman team did better than ever before. The team amazing me with their general knowledge. Food was excellent but most of all, we had the pleasure of knowing that the money raised is going to a great cause, putting smiles on the faces of the young adults at ESRA's Kfar Shmaryahu Social Club.
Jacky Shulman, Raanana
Not quite the Eggheads team, but no matter, winners or losers, we had a really great fun-filled evening. Everyone enjoyed the delicious food.
Rennie Rafaely, Tel Aviv
My grateful thanks to Glenis and her helpers for their hard work and skillful organizing. I for one am ready for the next.
Comments
No comments made yet. Be the first to submit a comment