Dietrich, Chevalier, and Nazis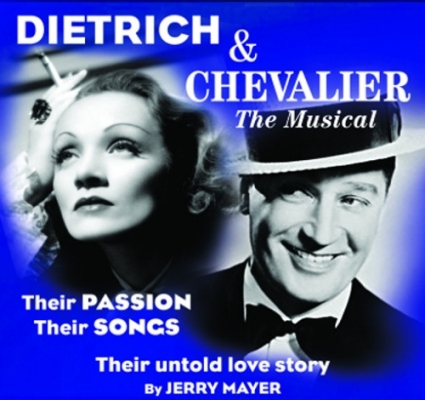 How fight against Nazis strengthened movie stars' special bond
Two stars of the silver screen who met in the 1930s and fell in love, remained friends when their romance was over.

But it was their attitude in dealing with the Nazis that brought Marlene Dietrich and Maurice Chevalier together again.
They first meet in Hollywood in 1932 and become lovers – despite the fact that both are married to their respective spouses at the time. When the romance cools, they stay close through the Great Depression and the war.
During World War II, Dietrich becomes an American citizen and joins the U.S. Army, entertains the troops and attains the rank of captain. She is invited by the Germans to return to her homeland to entertain their troops – but she refuses.
Meanwhile, Chevalier is now married to his second wife – a Jew – and is hiding his in-laws in his Paris home. However, a collaborator neighbor threatens to expose Chevalier unless he performs for Nazi officers in a Paris nightclub. This he does, but also manages to sing in Germany for French prisoners of war.
After the war, he is tried by the French for treason, but Dietrich comes to his defense.
She testifies as to Chevalier's patriotism and produces a positive letter from U.S. President Eisenhower on Chevalier's behalf. As a result, she earned herself a Medal of Freedom from the U.S. War Department.
A few years later, on our way from our home in Kfar Saba to our apartment in Fort Lee, New Jersey, my wife Lenore and I stop off at Berlin for a few days.We stay in the center of the city, across from the remains of the Berlin Wall on Alexanderplatz.
From there it's a 10-minute walk to the Berlin Museum for Film and Television at the Potsdamerplatz Sony Center, and where we went to learn about German film history.
The museum has two entire rooms permanently devoted to Marlene Dietrich, with many of her artifacts and costumes provided by her only child, daughter Maria Riva, who also wrote a book about her mother, a sort of exposé.
One temporary exhibit we particularly liked was about actress Romy Schneider, her life and clips from some of her movies. Her second husband was Jewish. Actor Peter Lorre features in another exhibit including scenes from his hit film, M, filmed in Germany before the war. He was also of the faith.
Also featured were exhibits about the great Jewish movie makers Erich Von Stroheim and Ernst Lubitsch, who both left Germany for Hollywood before the war. The museum also housed the Billy Wilder Café, which has since closed.
Dietrich worked with both Lubitsch and Wilder and many other film makers, including Josef Von Sternberg, who directed her in her career-launching famous movie, Blue Angel. Vienna-born Von Sternberg and Wilder, from Poland, were both Jewish.
Dietrich's story would not be complete without mention of Friedrich Hollaendar, a Jewish composer and friend, who wrote the film score for Blue Angel. He was born in London but was in Germany during World War II. According to the play, Dietrich and Chevalier, Hollaender was passing through Paris on his way to America at the same time Dietrich was in the city. She helped hide him until it was safe to leave. He made it to Hollywood where he worked on more than 200 films. But he is best remembered for his songs for Dietrich's movies. They created a partnership that lasted until the end of their lives.
The show that had it all – romance, music and danger
The musical, Dietrich & Chevalier opened in New York City at the St. Lukes Theater, 308 W. 46th Street on June 10th, 2010. Lenore and I went to see it the following week.
St. Lukes is a small theater with two levels of uncomfortable seats. We found two front row seats on the upper level.
Sitting immediately to my right was a woman writing away furiously in her steno pad. At the intermission,I asked her what she was writing. It turned out that she was a theater critic for The New York Times writing a review of the play.
I asked: "What did you say?" She replied, "Buy the newspaper June 21 to find out". It was a positive review, not a blockbuster, but positive.
It featured two Broadway stars in the lead as Dietrich and Chevalier, and a co-star playing eight fascinating characters. The leads sing the hit songs – Falling in Love Again, Louise, Lili Marlene, Mimi, Valentine, The Boys in the Backroom and nine others.
The play had everything: romance, danger, sex and music.

Comments
No comments made yet. Be the first to submit a comment