Beach Cleaning Project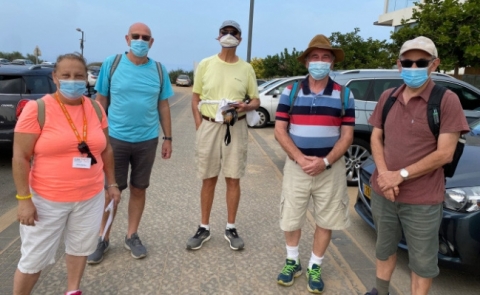 A group of ESRA volunteers participated in the "world's biggest beach clean-up", along with thousands of others, on a hundred Israeli beaches on Friday morning, October 30, 2020. Our smiling group showed up bright and bushy tailed at ESRA volunteer Ruth Barina's seafront apartment on the upper cliff of Gaash nature preserve. We joined about five hundred people of all ages and fitness levels to help restore our gorgeous Gaash coastline from the summer ravages of carelessly discarded debris. A second ESRA group did the same at Herzliya Pituach.

We were met by the lead coordinators from EcoOcean and from the Sharon regional authority, who greeted us warmly and expressed their hope that ESRA's first debut of coastline-protecting-eco-volunteering will be ongoing and enjoyable, and that the ESRA eco-community will be expanded this winter, with their professional assistance.
At a tent on the beach, we were issued bags and gloves. Alon, an EcoOcean guide, gave us a briefing about Israel 's sensitive beach and marine environment that needs restoring due to micro-plastics in the water and to the results of a half-century of overfishing and habitat destruction. We were all inspired to join the couples and families and talkative groups of teenagers working along the beautiful waterfront below the breathtaking sandstone cliffs. This is Israeli Zionism at its best and most robust.
Results!
Over 18,000 volunteers on 100 beaches
Over 62 tons of garbage collected in the following categories:
10% general
Personal care
Cloth and clothing
7% food
Toys
7% packaging
50% smoking
Electronics
Covid-related products
Reading materials
Construction
Camping and fishing
Caps
Medical
Israel's water and coastal sovereignty comprises almost as much territory as our land-based sovereignty but has been under-conserved, and exploited for security and natural resources. It holds many medical and scientific secrets yet to be unlocked, as well as recreational treasures.
ESRA will be offering you several other sea-ecology volunteer opportunities, so stay tuned. Consider, for example, joining periodic beach cleans, or oil spill cleanup training appropriate for English speakers. ESRA will provide the camaraderie, the expert educators and the bags and gloves. Consider making a relationship with the future of our coastline and with other ESRA members as we launch this new ESRA initiative in our beloved and beautiful homeland.
If you would like further information regarding volunteering for this ESRA project please write to This email address is being protected from spambots. You need JavaScript enabled to view it.
Comments
No comments made yet. Be the first to submit a comment