Youth Villages on the Right Path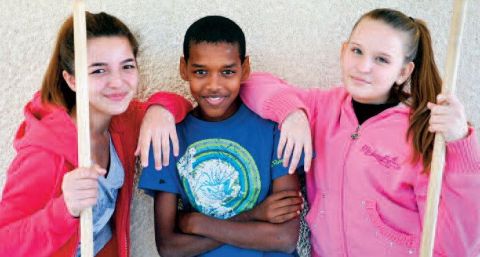 Since the Holocaust, Israel's unique "youth villages" provide a safe, supportive home for children who have been orphaned or whose parents are unable to provide them with proper care. With that foundation, they can face a bright future, successfully integrated into Israeli society. But – given their lack of family help – some need financial aid to achieve true self-sufficiency.
Members of the Jewish Legion of the British Army, together with Jewish Agency emissaries, encouraged many to immigrate to the new state-to-be. The first village residents were children and orphans in their teens, who were smuggled out of Europe during the Second World War or just after it. While some children were absorbed into various kibbutzim and others were placed in foster families, the youth villages provided a third option.
They were –and are – a cross between a boarding school, a junior and high school and a kibbutz, providing a home and education, with everyone sharing in the labor involved. Two such villages are Aloney Yitzchak Youth Village, created in 1948 within a nature preserve near Caesarea, and Yemin Orde, established years later south of Haifa.
Aloney Yitzchak Youth Village is now home to 300 students from age 12 upwards. There is both a junior and senior high school on the campus. For those residents who need it, psychological support and counseling are provided, as well as assistance in adapting to Israeli society.
They include:
* Students from abroad who chose to immigrate to Israel before their parents, or whose parents are staying in the Diaspora but want their children to grow up in Israel, to connect to their Jewish identity and traditions. Over 50% of the residents are new immigrants from 20 countries;
* Students whose families have made aliyah, but are struggling to establish themselves;
* Students who are native Israelis, almost 10% are orphans (or from single-parent homes), while 90% originate from low-income homes / families who are too impoverished to provide for their children due to illness, divorce, or other reasons.
Students live in dormitories, grouped by age, three or four to a room, supported by a small team of adults. They are encouraged to engage with their groups, support each other and contribute to the community.
Every week all students are required to give seven hours work to the village in either the organic agriculture orchards, dining hall, maintenance, food service, library or in other areas on the campus.
There is academic support, counseling, after-school tutoring and individual study plans for those needing it. Classes are smaller than in the traditional public schools in Israel. The village also provides after-school sports, and in addition programs with research and science institutions.
The students' families are involved whenever possible. Those without families in Israel are matched with "host families" for visits every second weekend and for holidays.
The adults caring for the youngsters are committed to showing them they are valued, and that they deserve and can have a future as successful as anyone else's. The results are visible. Visitors report finding the older students and graduates polite, appreciative, and extremely motivated to succeed.
Despite their challenging backgrounds, due to the support they receive from the staff and their fellow students, 91% of the graduates earned full matriculation in 2018, and 95% went on to serve in the Israel Defense Forces, with a high percentage going into elite units and becoming officers.
Many graduates attend university or other higher education institutions – or want to. But most of the village residents have few resources after Army service, especially to pay for studies. Many see secondary studies as the key to future success. They take on jobs, loans, and join programs where they spend hours tutoring children in exchange for loans – but often that is not enough to cover both the cost of the studies and their living expenses. Sometimes it is just too much for these young people whose families can't help them.
Aloney Yitzchak graduates, like those from the other villages, need college or post-secondary school scholarships. Such assistance is enormously appreciated, and can be seen a "social investment" in Israel's wellbeing.
Here are two examples of students in need of assistance:
Shimi, age 22: After his five years at the Village, he served in a combat role in the Army, where he was injured. He became a driver for officers and gradually won promotion to even more significant roles. Shimi is struggling to pay for his studies at a Physical Therapy School, despite working and tutoring, and has no other means of support.
Mazal, age 23: one of five children raised by her single mother, who got divorced due to domestic violence. Mazal states clearly that she was raised with good values, including respect. After six years at the Village, she served in the Air Force, working on rescue helicopters. Due to what she learned there, she is highly motivated to become an Industrial Engineer. She began her studies, but is finding it very difficult to pay tuition.
There are plenty more such stories. Donors will receive the story and a personal thank-you note from the scholarship recipients.
You are welcome to visit and I will be happy to organize a visit for ESRA members.
In Israel please contact: Heidi Goldsmith 050 397 1315,
This email address is being protected from spambots. You need JavaScript enabled to view it., www.ayvillage.org
In the UK please contact: Daliah Mehdi, Chief Executive
Youth Aliyah Child Rescue
235 Regents Park Road
London N3 3LF
020 8371 1580

Stay Informed
When you subscribe to the blog, we will send you an e-mail when there are new updates on the site.
Comments
No comments made yet. Be the first to submit a comment