Yachad English Speaking Branch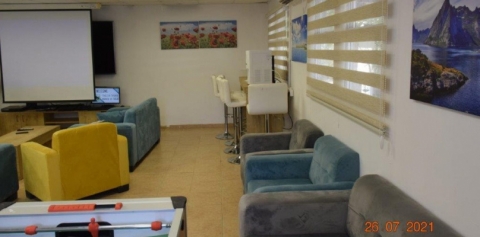 Up Close and Personal With the IDF Gaza Division
Remember when "Zoom In" described an actual activity?

Members of the English-Speaking Branch of Yachad did, as they "zoomed in" for a visit to the IDF soldiers stationed on the Gaza border – the soldiers whose very job it is to "zoom in" on potential threats to Israel.
The July 26 VIP visit was arranged by Yachad LeMa'an HaChayal – United for Israel's Soldiers, which is the authorized, worldwide conduit for civilian support of the Israel Defense Forces. Yachad's English-Speaking Branch, based in Netanya, is the support group for Israeli Anglos and their overseas friends.
The visit, to IDF Southern Command facilities along the northern border of Gaza, provided a rare and fascinating look at the surveillance, communications and operations networks that deal with every potential threat – underground, overground, from the air and from the sea. The 47 visitors were accompanied by the Branch's liaisons to Yachad, Lt. Col. Shirley Sobol Yosiphon, and Yael Kedem Golan.
"I must tell you how really privileged we are at having been invited to learn about things the average member of the public never gets to see," Branch Chairman Ian Fine said to the group. "As a general rule the IDF does not allow the public to visit their bases, but due to our efforts, as a very special thank you, we are permitted to bring along a limited number of visitors to learn a little about the very important things the IDF does."
Those efforts focus on the soldiers themselves – making their time in the IDF a little more comfortable and assisting them post-service with university scholarships and related support. The connection was palpable, as it was the soldiers themselves who greeted us at every stop, served refreshments, walked us through their installations, showed us how they do their work and shared stories about their lives.
"To us, you're not only soldiers, you're our children," was probably the most frequent comment heard from the visitors throughout the day.
And like good parents, they were there to provide comfort – literally. Among the Branch's many activities is funding "clubhouses" – lounges for rest and recreation. Here, soldiers find a stress-free environment to relax on comfortable couches and generally chill out watching big-screen TV, playing table or computer games, or simply meeting for coffee. On this visit, a clubhouse was dedicated at a base near Kibbutz Re'im by the Woolf Family of Netanya and Gush Etzion in memory of their parents, Abraham Irving Woolf and Bessie Birnbaum Woolf.
View from Mitzpe Peres
Orientation was conducted at Mitzpe Peres, an IDF site near Moshav Netiv HaAsara with a clear view stretching from Gaza City to Ashkelon. The site, situated at Gaza's northern border, is named in memory of Colonel Nir Peres, a naval intelligence officer and head of the Gaza DCL – District Coordination and Liaison. He is honored not only for defending Israeli communities on the border, but also for his unwavering humanitarian support for, as he called them, the many good people of Gaza.
After seeing and learning first-hand about defense of the border communities, and all of Israel, from threats from the South, the group proceeded to a site near Kibbutz Re'im for a second briefing by a panel of young soldiers and a demonstration by a mobile surveillance and communications unit.
Combined with visits and briefings at additional surveillance and communications facilities – plus a stop to support local volunteers who operate a Trampiada (free refreshment stand) at a busy bus junction – the group was offered a unique understanding of how the combined defense forces detect and respond to a continual stream of terror provocations and attacks.
Personal Support
"Israel's ability to survive depends on the strength of the IDF," Ian noted. "Providing our young men and women soldiers with some form of sanctuary and sense of family, in and around the battlefield, is a crucial enterprise that requires our sustained and specific attention."
Yachad – originally known as the Association for the Wellbeing of Israel's Soldiers – was founded by David Ben-Gurion in 1942 as a conduit for worldwide Jewry to support the non-military needs of soldiers.
The English-Speaking Branch was founded more than thirty years ago in order to support projects that are specifically requested by the IDF.
In addition to clubhouses, the group provides housing and other necessities for lone soldiers, well-appointed hostels in Israel's major cities for rest and recuperation, sports facilities on bases, educational centers off bases, university scholarships for lone soldiers and others in need of financial support, and food vouchers for families of soldiers who need to prepare meals at Rosh Hashanah and Pesach.
A Special Synagogue
A special request currently being funded came from the commanding officer of the Golani Unit of Sgt. First Class Amit Ben Yigal, who was murdered in May 2020 by a terrorist who dropped a stone block on his head while he was on a mission in the village of Ya'bad, near Jenin. His death was a particular tragedy for his family, as he was an only son who was not obligated to serve in a combat unit.
His commanding officer requested, and the English-Speaking Branch is delivering, a synagogue dedicated in Amit's memory at the Shraga Base of the Sayeret Golani Unit in which he served. A dedication date, not yet announced, is sure to be a memorable experience.
Membership in the Yachad English-Speaking Branch is available for an annual donation of NIS 500. To become a member or for additional information on getting involved, please email This email address is being protected from spambots. You need JavaScript enabled to view it. or phone Branch Secretary Rosalind Goldstein at 052 585 3025.
Comments
No comments made yet. Be the first to submit a comment