The Paratroopers Strike Another Enemy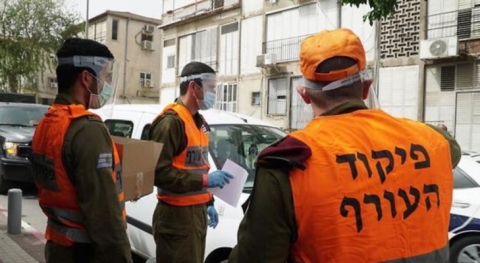 On a frigid black evening, fear throbbing in the eyes of one hundred thirty paratroopers as they stand still in the nocturnal outskirts of a city. Soon, when I deliver my words of encouragement, they will march off into the unknown. My mind races with doubts: will our presence be met with resistance? Will I return my men back home safely?

In the decade leading up to this night, I devoted myself entirely to military training, reading, and learning — preparing for the day my country would call on me. Today, however, our adversary was not a gun-toting enemy. It was a deadly new virus.
We were not going to meet our foe at the border, but rather in Bnei Brak, one of the most densely populated cities in Israel. Further complicating a difficult situation, we were being deployed in the heart of an ultra-Orthodox and anti-Zionist community, known for its opposition to any form of national service, whether military or civil. Their beliefs were the complete antithesis to my own.
Although my unit was properly equipped to maintain law and order in a civilian setting, the situation called for a different resolution.
The sergeant ordered the soldiers to attention, snapping me out of my reverie.
"Today," I began, "our intensive training will bear fruit. Our mission is to prevent the spread of the virus and to save civilian lives. But as dangerous as Covid-19 is, let's not underestimate another epidemic: fear and alienation. Today, we'll be measured not only by the number of infected individuals, but also by the respect we demonstrate towards this community." I nodded, dismissing my paratroopers. Our convoy set off.
By our third week in the city, the operation to distribute food and facilitate quarantine was in full effect. A few isolated riots broke out: social distancing was anathema to this devout community that relied on daily gatherings for prayer. Some of the rioters cursed, spat, and shoved the soldiers, endangering both themselves and us. The manner by which we conducted ourselves at this point would influence the entire operation.
Rather than retaliate with force, I ordered my paratroopers to halt. I made it clear to the rioters that our sole objective was to mitigate the spread among the hardest hit community by the virus, whether they approved of our efforts or not.
The restraint my paratroopers displayed was gradually rewarded. The mayor and leading rabbis of the community soon became involved in the operation. Shoulder to shoulder, we walked throughout the city streets, gradually learning to view each other as something other than faceless extremists. Little children who watched our arrival with fear began to tease my soldiers with playful nicknames, and adults started to smile respectfully, pausing for a chat as we passed boxes of bread and olive oil over the doorsteps of their homes.
Over time, respect grew to affection, which, under any other circumstance, wouldn't have developed between our distinctive groups. It transcended prejudices and conflicting worldviews that normally divided us.
Could only plague bring us together? Could our efforts to bridge the intercommunity barrier be scaled-up internationally to bridge the divide between Israel and its neighboring countries?
A paradox soon became apparent to me: those who best understand their adversary and who might be best positioned to resolve conflict tend to be the ones fighting against that very adversary. Rather than firmly resisting contrary opinions and world views, I must continually re-examine my own. Perhaps this course of action can foster peace, based on a shared understanding rather than a common enemy.
The day my unit left Bnei Brak, the Middle East summer sun was blazing. Still, the citizens standing on balconies came to cheer my paratroopers as they marched proudly out of the city. Between two communities sharing little but the same land — a human connection had emerged.
Comments
No comments made yet. Be the first to submit a comment