The Call on The Sand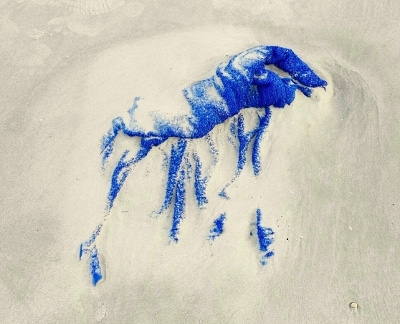 Photography, Digital Imaging and Video Exhibition
My life is like a journey on the beach where the currents reflect the interaction between sea, sand and wind.

As a multi-media artist my paintings, photography, video and digital art bare footprints of the sequences in my life, embracing new ventures and challenges. In my body of work I incorporate motifs and mediums which express the desire to give prominence to often overlooked everyday matters to render their role in life.
Initially, my major art exhibitions in Israel and Australia focused on the "leaf" as the mediator between earthly stability and endless movement influenced by recurring changes.
I continuously draw on my inner strength to accomplish new goals. Next I ventured into digital imaging of my toes. Dissecting and reassembling multiple layers I shifted between reality and imagination to create sensual and confronting landscapes.
For the last four years during my morning beach strolls particularly Netanya where I moved to permanently in 2019, I have been capturing the scenic landscapes for all to see.
At the same time I systematically filed away the piles of photographs that captured the endless scenes of garbage and debris on the seashore which bear witness to the disturbing human nature of careless behavior towards the environment.
The morning beach walks are uplifting as the fresh breeze, sea and sand are a perfect start for the day. However, these often turn into a 'crime zone' as I detect the endless trails of plastic remnants and cigarette buds that the waves have churned and turned to finally spit these back onto the sand. Like a detective I have "shot these crime scenes" in video and photographs, and created digital images to try and engender change even though it might seem too complex and almost impossible to achieve.
Netanya beaches, titled "The Israeli Riviera", are currently undergoing a major restoration process to protect the sea shore from the natural forces which have dangerously damaged the cliffs alongside the shore. While wave breakers are being restructured it is also time to enforce law and order on the beach itself where human have been causing damage to living creatures in sea and sand.
Believing that nature must not be taken for granted and we have a duty to educate to ensure the safety of our environment. Therefore, the next art exhibition is a reflection of my personal journey to search for an ideal world where beauty and peace prevail.
The Voice on The Face of The Sand exhibition will be held at the Cultural Center Hall, Netanya, between 5 October - 5 November 2021. The exhibition is supported by the Netanya Municipality, Netanya Culture Center, The Environment Education Department and the Culture and Education Department in Netanya.
While this is an exhibition for all ages, all schools in Netanya are encouraged to visit the exhibition and engage in educational interactive events to learn, appreciate and respect our beach environment, change attitude, apply responsibility and acquire the tools to keep Netanya clean with the ultimate goal that this life changing experience spreads Israel wide.
We are currently living in a world filled with uncertainties encountering environmental disasters and viruses which claim human lives worldwide. It is time to act and react to keep our environment safe.
Ernest Hemingway said, "If you want people to see things differently take them to places they never visited". My challenge is to engender change so people see things differently in places they visit.
The Call On The Sand. Photography, Digital imaging and Video.
October 5 – November 5, Sunday - Thursday 10:00-14:00 and by arrangement
Netanya Culture Center, 4 Raziel St., Netanya
English guided tours are available by arrangement Call 053 936 0209
Comments
No comments made yet. Be the first to submit a comment