Technion Creates Chinese University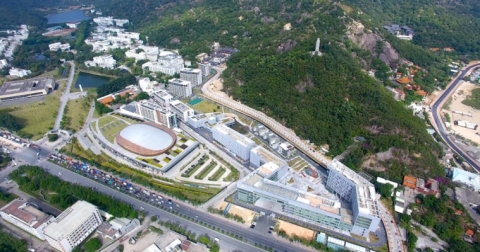 The story behind a large donation
Photos: Technion PR department
In 2013 one of the largest donations ever to an Israeli university was announced. Li Ka-shing, a business leader and philanthropist from Hong Kong, through his Li Ka-Shing Foundation, donated some $130 million to the Technion Institute of Technology in Haifa, to establish the Guangdong Technion Israel Institute of Technology (GTIIT) in Shantou, China.
GTIIT is intended to create not just a new academic facility, but a new era of cooperative research between Israel and China in science, engineering and the life sciences. For the Chinese, the GTIIT brings the Technion's expertise on creating a top-notch technical institute, as well as a stimulating dose of Israeli-style entrepreneurialism on a strategic level.
"In this day and age, no one has an iota of doubt that technological innovation underpins a country's ability to create collective wealth, and that it is the key impetus to individual success. Creativity is the defining centerpiece of our time – powering us into the future. Establishing a creative paradigm is not easy to set right, only through education and the rule of law can we build a free and fair, fun and fruitful future for all," said Mr. Li Ka-shing at the inauguration ceremony in December 2015.
"Our unprecedented collaboration will be truly transformational for the Technion, Shantou and Chinese education. The combination of the innovative and entrepreneurial spirit of Israel and the unbelievable scale and resources of China will result in a great partnership. Together we will create a major research institute that will help not only China and Israel, but also mankind in general," said Technion President Peretz Lavie.
"I want to thank the Israeli Government and the colleagues at the Technion. China and Israel share the common aspiration of facilitating the progress of human civilization through science and technology. GTIIT will continue the fine tradition of Technion in Shantou, Guangdong Province so as to build the 'Silicon Valley' in South China," said Li Jiange, inaugural President of GTIIT.
For the Technion, the GTIIT means increased global reach and stature. The investment in this collaboration will also benefit the research facilities and infrastructure at the Technion's Haifa campus. It will also form an anchor in the Far East that complements the Technion's partnership with Cornell University at the Jacobs Technion-Cornell Institute at Cornell Tech in New York City. Finally, an industrial park planned for the GTIIT campus will serve as a foothold for Israeli companies to crack key markets in the U.S. and China.
GTIIT comprises three units: The College of Engineering; the College of Science; and the College of Life Science.Areas of study will eventually include chemical engineering, materials engineering, environmental engineering, mechanical engineering, chemistry, mathematics, physics, biotechnology and food engineering, biology, and biochemical engineering. Majors may be adjusted or replaced, depending on the need of Guangdong and the development of the GTIIT.
The initial class of students started in 2016 with 100 students in chemical engineering. At full build, the GTIIT is expected to enroll some 5,000 students, made up of 4,000 undergraduate and 1,000 graduate students.
Who is Li-Ka-shing and why did he donate such a large sum to an Israeli university and why did he choose the location to be Shantou university?
Li Ka-shing was born in the Guangdong province and came to Hong Kong as a teenager. Initially he worked in his uncle's plastic factory and when the demand for plastic flowers started in the 1960's, he opened up his own factory and wanted to secure the flower output of all major Chinese plastic factories to control the booming demand for plastic flowers. However, no bank wanted to lend money to a young man without any means and just a business plan. One exemption was Solomon Steve Gatton (Gathan), an Iraqi-born Jewish banker, who did lend him the required funds. Li Ka-shing, like many Chinese, never forgot such a gesture, and even came to give his respects at the funeral of Mr Gatton's wife Moselle in 1998, when I was living there as an expat.
After a few years, he became the first Chinese to take over a British company named Hutchison-Whampoa, later named CK Hutchison Holdings. It became the vehicle for expanding into telecommunications, and the global Orange brand in mobile phones was created. Li Ka-shing also invested in real-estate through his other company Cheung Kong Holdings. Each company held 49% interest in the other, so effectively he controlled both. After he sold the Orange brand, he invested, among others, in one of the ports on the Panama Canal, after it was privatized. This, and many other golden investments, made him one of the richest men in Hong Kong and indeed the world. He was nick-named "the man with the Midas touch".
His initial friendship with the Jewish banker Gatton also led him to invest in Israel. One of the first investments was in the mobile operator Orange (now Partner). When I was living in Hong Kong, my late wife Dorrit was a representative of Keren Kayemeth LeIsrael (KKL) – the Jewish National Fund (JNF). There wasn't too much work issuing tree certificates in Hong Kong, but one Sunday morning Shmuel Dankner, then CEO of Partner, phoned and asked us to issue a certificate for planting 888+8 trees. He had already paid for them to KKL in Israel and only wanted our help to print it out. "Why 888+8", I asked? "I am visiting Li Ka-shing, one of the richest men in the world, to try to convince him to invest even more in Partner in Israel. What can you give a rich man? Since I heard that he was Catholic, I decided to give him trees in Israel. 8 in Chinese means luck or fortune, that's why I selected 888+8", answered Shmuel Dankner.
In the afternoon Dankner called back and said that Li Ka-shing had been so overwhelmed with the prospect of having trees in the Holy Land that he instructed his CEO to visit "his forest in Israel" on his upcoming business trip to Israel the following month. We were therefore asked to inform KKL to put up the plaque immediately. When the CEO came to visit, he brought a cheque for 18,000 more trees since Li Ka-shing had learned that 18 was a Jewish lucky number. Thus, a sizeable Li Ka-shing forest was created in Israel.
This wasn't the end of his connection to the Holy Land. Li Ka-shing's venture capital fund Horizon Ventures invested in many Israeli start-ups. One of the small companies he invested in was called WAZE. When WAZE eventually was sold to Google in early 2013, Li Ka-shing made a lot of money, which he then promptly gave back as a donation to the Technion and his home town Shantou to create the GTIIT.
The GTIIT logo was designed together by the Technion, Shantou University, the government of Guangdong Province and the Li Ka-shing foundation. It represents the cultural origins of every one of the partners, as well as the harmonious collaboration between them. The letter ט (Tet) represents the Technion, the red flower stands for Shantou, and the Phoenix for Shantou University.

Comments
No comments made yet. Be the first to submit a comment