Swimming Across The Kinneret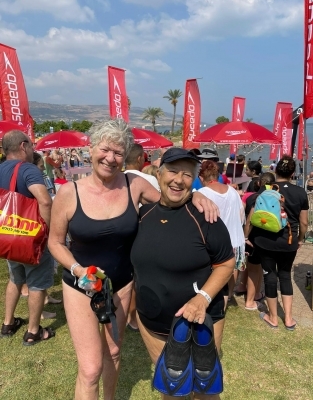 The Kinneret swim is the third biggest amateur swim event in the world. Every year, about 10,000 swimmers descend on Zemach Beach from where, depending on the length of the swim, they are bused to two different venues. From there, they swim back to Zemach where they are welcomed and receive their medals, a sandwich and drink.

This year, I followed my dream. I always wanted to swim in this event, but somehow didn't pluck up the courage, or just didn't get round to it. So this year, after having booked last year only to be thwarted yet again as the event was cancelled due to corona, it was finally all go.
It was with much trepidation that my friend Bette and I decided that we were going to do it. We both reached the age of 78, and decided it was now or never! Neither of us have any experience of long-distance swimming, only lengths in the pool, which is not quite the same.
After many phone calls about the details - where we were going to stay, as the event started at 8am and is about a two-hour drive from Raanana, we decided to stay in Tiberias overnight in order not to have to get up at the crack of dawn. There were also lots of other things to find out. I am not very good at details, more of a "it will be ok" kind of person, but Bette isn't. Where do we get our bracelets from? What about tee shirts? What happens if we get tired in the middle of the swim? Lots of questions. The only really important detail was where to pick up the bracelets. The bracelet has a barcode which, when you enter the water, is clicked into a machine and, when you finish, it checks you out, so no one is left, or lost in the water and no one can enter without one.
The morning of the event arrived and, after a sleepless night, we set off. First problem was the 8,000 people in private cars, going to the same place, created quite a traffic problem. Instead of 25 minutes, it took us almost an hour to get there, and then we had to find parking We expected a kilometer and a half swim, but not the same distance walking from the car park. By this time, we were getting tired, and I wondered if the swim was such a good idea after all.
As we walked towards Zemach beach, there were many people coming towards us, with medals; they had already finished their swim. They all looked happy, so that was a good sign. Eventually we found the buses which were ready for us to board, and we were taken to our starting point. Another little walk, and finally we were ready to start our swim. It felt like half a day had gone by. But we held out our bracelets to be checked in only to discover another delay - mine didn't work and I had to go back to be barcoded again.
For the swimmers' safety, boat and floats were positioned marking the route, and the swimmers passed between them, making it very clear where they had to go.
The swim was quite uneventful, the water pleasantly warm. I have never seen so many different ways of "swimming".Any kinds of floats, rubber rings, foam sticks, plastic balloons that go in the air above you while you swim, you name it, and it was there. Add the swimming costumes and caps, a riot of shades of red, orange and pink and you have a carnival of colors.
Every hundred yards or so there was a raft, on which you could sit, hold onto, or dive off if you wished. Mainly, the kids sat on them. Once we reached the one kilometer mark we thought it had been a really easy swim, but somehow the shore seemed to get further away, rather than nearer. We could hear the music playing to welcome us in, but it felt that the last half kilometer was much further than the first one. We finally made it, and for me the worst part of the whole swim was to come. We had to walk the last 20 meters over sharp stones, really uncomfortable. Those people who swam with shoes were okay. The rest of us suffered. Finally, with a little help and someone else's borrowed shoes, we marched triumphantly out of the water, held out our bracelets to be checked and were greeted by our family and friends, who were waiting for us. Then we received a drink, a sandwich and, best of all, our medals of which we were so proud. We Did It! We were exhilarated and happy. In fact, Bette was so high on adrenaline she couldn't sleep that night.
I would highly recommend doing the swim to anyone who wants to experience a fun day, at any age.
On the way home we found a real gem of a place to stay. It is called Maples Place, in Rosh Pina, and is a recently opened Zimmer. The owner, Rachel, an artist, and husband, Richard, a licensed Israeli tour guide, after many years of hosting visitors for free, decided to open a business. The Zimmer is located in a quiet area, consists of a bedroom, living room/kitchen, bathroom, and private patio and is suitable for a couple, or family. There are no stairs, and best of all it receives grade 10 on Booking.com for cleanliness. You can also order breakfast which Rachel makes, using eggs from her chickens, and home grown vegetables and fruit from the garden, when in season. Naturally the jams are home-made, a real treat, and organically grown. Truly a place worth a visit…Call Rachel 050 723 2086 or find it in Booking.com "Maples Place, Rosh Pina".
Comments
No comments made yet. Be the first to submit a comment