Spread Word: Butter is Cut Back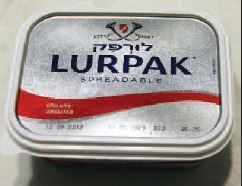 ConsumerWatch Extra
Because it is easy to spread -- even immediately after being taken out of the fridge -- I'd been using Lurpak on my toast for years. I'd always thought of it as butter (after all it was produced by the Danish Dairy Board) but then a sharp-eyed friend who had read the information on the bottom of the packet told me that only some 85% of it was butter - the other ingredients were water, rapeseed oil and lactic cultures. This did not trouble me unduly as it tasted fine and I continued to use it.
And then it disappeared from my local supermarket. I tried another, larger, supermarket - but it wasn't there either. The shop assistant said that they hadn't been able to get hold of it for weeks but suggested that, instead, I might like to try Euro Spread. "It's just the same" she assured me. But it wasn't; it was made in Ireland and the amount of butter (well, pasteurized cream) was not 85 per cent. It was 63.3 per cent, with canola oil (25.7 per cent), buttermilk, lactic cultures, calcium and Vitamin D making up the rest of the ingredients. 00
Now Lurpak has re-appeared. It costs exactly the same as it did before but the butter content has been drastically reduced. It is no longer 85 per cent. The "new" Lurpak now boasts a butter content of 63.7 per cent - a drop of over 20 per cent when compared to the original product. The other ingredients are rapeseed oil (25.7 per cent), water and lactic cultures.
I dare say that this new product will do me no harm - but, like the king in A.A.Milne's poem, "The King's Breakfast," all I want is a little bit of butter (and not a mixture of other ingredients) on my bread.
Two related snippets of trivia:
(b) The Lurpak logo is based on an ancient musical instrument known as a "lur" but Lurpak is not sold in Sweden because the word, "lur", also means "scam" in Swedish slang.
(b) If you've ever wondered what a canola plant looks like, you can stop wondering. It does not exist. The word, "canola", is derived from four words, Canada Oil, Low Acid - it refers to a variety of rapeseed oil which is low in erucic acid.
And an afterthought: I wonder whether a representative of a consumer protection group has been in touch with Lurpak - the latest version of the spread now has (in English and Hebrew) the following information: "Blend of Lurpak butter with rapeseed oil."
Comments
No comments made yet. Be the first to submit a comment