So is Mt Karkom Actually Mount Sinai?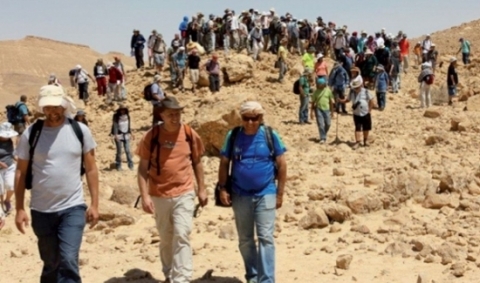 I found out about the Mount Karkom colloquium by accident. Three weeks before it took place I walked into my boss's office - Eitan Hershko, manager of the Eilat Field School - just as he opened the document announcing it.
I'd heard about Prof. Anati's work years ago and had wanted to go, but the site is in a restricted military area and visits must be arranged in advance. The colloquium was a golden opportunity to see the site in addition to hearing the subject expounded upon by experts.
Participation was by prior registration only, which was fast and furious. As soon as I registered with the Har HaNegev Field School, their hostel was already fully booked. The materials I received from them were immediately distributed to every Eilati for whom I had an address.
Luckily two other Eilatis had signed up and I got a ride up and back with Eitan Schwartz who operates the What's Up? observatory.
The colloquium was taking place in Mitzpe Ramon, a town on the edge of the Ramon Crater.
The drive up from Eilat was great, and the area around Mitzpe Ramon is starkly beautiful. Mitzpe is located on a highland, and the temperature was at least 5-10 degrees (centigrade) cooler than Eilat.
The MR Club is a disco in the industrial area. It was perfect for the event: good sound system and acoustics, catering facilities, and enough room and seating for everyone - about 140 participants in all. It was an international crowd of professional archeologists, geologists, a mathematician, historians and biblical researchers, with the balance made up of amateurs, professionals in related fields and local residents.
The colloquium was wonderful but fatiguing.
There was too much information from too many sources to be easily sorted out and digested, but the salient points were that there are almost as many candidates for Mt. Sinai as there are interested persons. Prof. Anati made a very good case for his theory that Mt. Karkom is Mt. Sinai, while Dr. Avner was equally incisive as to why it was not Mt. Sinai, and presented several other, equally good candidates for the title.
Each speaker contributed some important data, however seemingly far-fetched or obscure the premise, which could ultimately be fitted together to provide a conclusive answer or likely answers.
At the same time, as is the traditional Jewish attitude to the subject and as was pointed out during the meeting, the location of Mt. Sinai is immaterial compared to the event of receiving the Ten Commandments. One presenter suggested that there may have been more than one Mt. Sinai where revelations were received, just as there are certainly several mountains in Sinai and the Negev that material evidence shows were considered sacred during the Neolithic and Bronze Ages.
Mr. Yefet Cohen, a member of the Samarian community, added an interesting theory: that after the people of Israel left Egypt they had to detour back, south of the Bitter Lakes, to retrieve the remains of Joseph and Jacob, and then crossed the Gulf of Suez to escape Pharaoh's army and reach Sinai. He has published a book on the subject in Arabic which he hopes to translate into English soon.
I spent the night at the Ramon Suites, which was reasonable, well appointed and clean; it's a converted apartment building without an elevator. It is soon to undergo renovations and a name change as it has joined a hotel chain.
Comments
No comments made yet. Be the first to submit a comment