Cream of The Crop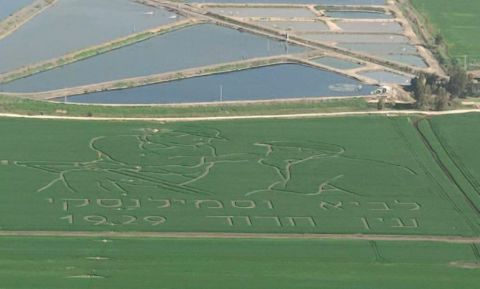 In order to enjoy an incredible annual artistic creation in the wheat fields of Kibbutz Ein Harod – the work of Israeli crop artist and farmer Peter Viner – one has to climb a mountain, literally.
The mountain in question is the 'Shaul's Shoulder' peak of the Gilboa mountains. It overlooks the eastern portion of the Jezreel Valley where it enters the Bet Shean Valley on one side, and deep into the Palestinian controlled areas of the northern West Bank on the other.
Viner is a member of Maoz Haim, another kibbutz a short journey from Ein Harod that is perched on a hill overlooking the Jordanian border, close to the Sheikh Hussein bridge across the River Jordan and present day border crossing.
The farmer cum artist has been creating his very special art that sprouts not only from the heart but also the earth, annually since 1994 using Mother Nature's gallery in the Jezreel Valley, a field as his canvas, his tractor as tools. His first creation was to celebrate the Israel-Jordan peace treaty, an event that was more than close to his heart. He wrote in massive letters the word 'peace' in English, Hebrew and Arabic at the time.
Since then Viner has created what some term as "crop graffiti" celebrating major anniversaries of the State of Israel and other important historical events. Last year he celebrated the opening, or one should say reopening, of the Jezreel Valley train from Bet Shean to Haifa.
This year Viner has chosen to recreate in grain a black and white photograph taken 90 years ago of two farmers, members of Ein Harod, as the soil toilers took a break in the fields. The names of the kibbutzniks, Lavi and Smilansky, Ein Harod 1929, stretches out across the green wheat field underneath the grown from seed image of the men.
Viner, who is very modest about his spectacular creations, has become quite a celebrity with Israelis making their way to the highest peak on the mountain around this time every year to see the latest slow grow creation from on high.
With the welcome heavy rains of this winter and many a day of sunshine, the latter particularly at weekends, thousands of fans of Viner's natural art can be found on the mountain top admiring the work of the artist who describes himself as a "man of the land who is deeply connected to this country".
Comments
No comments made yet. Be the first to submit a comment