Raanana Rokedet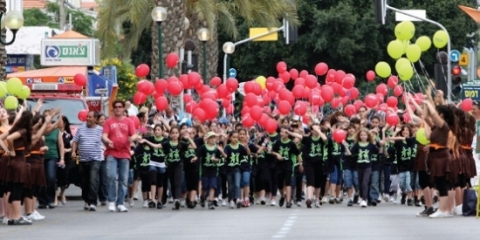 In Israel, after Holocaust Day, the Israeli flags start to appear on cars, store fronts, balconies and windows. The lobby of my building becomes a celebration of blue and white, beauty for my eyes and heart. As a native New Yorker and a Jew I always enjoyed the Israeli Independence Day Parade, watching with pride the floats and flags march down 5th Avenue. One year, my dance group, Kinneret, had the privilege of dancing on the first float in the parade. We twirled in our costumes with tambourines for our spectators to see. Participants came to march from many places in the country. Of course, all the Israeli organizations in New York City were represented, including the consulate, the banks, El Al, scouts and army representatives and various American politicians. Israel always has politics attached to it in America. In America, Jews and Israel lovers are a small minority although you feel otherwise on the day of the parade. The United States of America, being a country built by immigrants, much like Israel, was founded as the "Land of the Free, Home of the Brave, with Liberty and Justice for All". As a result, there are also Puerto Rican, Irish, Italian, and Greek parades and a huge Caribbean festival in Brooklyn as well as Afro-American month in the New York City public schools.
I have been a veteran Israeli folk dancer since the 60s with Fred Berk and accordionists at the 92nd Street YMHA. I attended folk dance camps, weekends, workshops, watched and danced in the New York City Folk Dance Festival of the Arts directed by Ruth Goodman and Dani Uziel and participated in two folk dance tours of Israel directed by Ayala Kadmon Goren with Haim Kaufman and Dany Benshalom with Ruthy Slann. Both tours included Karmiel, an amazing three day and night dance extravaganza of performances, workshops and non stop folk dancing, both Israeli and International…a dancer's dream.
As a new immigrant, witnessing the 'festival hamecholot' in Raanana on Israel's 62nd Independence Day was something special. It was my first Yom Haatzmaut as an Israeli citizen. There were 1500 participants from dance schools both local and around the country. There were marchers from various organizations, the basket ball or soccer schools, the cyclers and the participants in wheelchairs. The festival has been taking place for 30 years. I heard Shlomo Maman's name mentioned as chief dance consultant with many other names I did not recognize, especially since they were rattled off in Hebrew, a language I am still struggling to learn in ulpan at the Raanana Absorption Center. This was a massive coordinating effort.
First they marched down Ahuza, the main street of Raanana, bedecked in colorful costumes. There were dancers of all sizes. I was impressed by how many young dancers marched.
The dance groups split to line both sides of each street to create a revolving performing stage. Some dance groups rotated along the route and performed, each group dancing a different choreography. There were young dancers spaced between these performing groups. They were all dressed in similar costumes. They alternated between sitting and dancing in a large group choreography that stretched down Ahuza, while the first groups sat. I had never witnessed a performing venue like this before. I loved it. It encompassed the center of the city's life.
There was an authentic Yemenite group with flower baskets and an excellent male Druze group. There were modern Israel choreographies, Russian dances, a tarantella, disco, African, flamenco and Ladino dances. One group did leaps and falls on the concrete road. My knees hurt just watching. I didn't see any traditional blue and white costumes on the dancers but Israel has grown up. The Ethiopian dancers were beautiful. You could watch three groups dancing simultaneously.
The last dance began with each dancer using duty free boxes. I wondered where they obtained so many. They danced to Eretz Nehederet which had been choreographed by the late Moti Elfassi. "I was in Paris and Rome but there is no place like Eretz Yisrael" This led into an Israeli medley which they danced with beautiful large Israeli flags and tremendous enthusiasm. It was heartwarming to see hundreds of blue and white flags dancing in the air. They invited the audience to enter the street and join the dancers. We danced Mayim, Od Lo Ahavti Dai, and the Chicken Dance, to name a few.
This was wonderful to witness. Parents dancing with their children, siblings dancing with each other. Everyone was happy. It was our Jewish future dancing in the streets of Raanana. It was not on a stage. It was part of life. There was the cutest little two year old boy with laughing eyes who was just happy to jump around in the circle with the music. He tripped over his feet and fell down but got right up and continued to dance with everyone.
As a new immigrant of ten months who had just experienced the solemn sadness of Memorial Day for Israel's fallen soldiers, the price of having the State of Israel, to join in folk dance is a way of bringing joy and national pride to the people of Raanana, and to me. Try a local folk dance session and dance your joys. It is fun, social, exercise and part of our heritage.
With HaShem's blessings we will always be free to dance with our flag, celebrating our independence, growth and pride in our land and our country.
Bravo to the municipality of Raanana, all the organizing dance teachers and especially the dancers who made "Raanana Rokedet" into a joyous Independence Day tradition.
Comments
No comments made yet. Be the first to submit a comment