Philanthropist Donates Scanner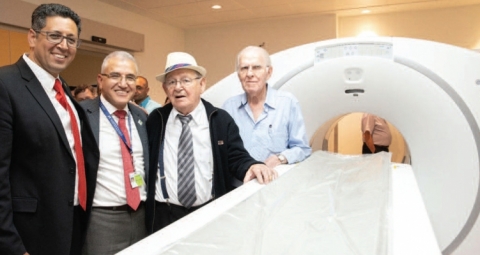 April 24 saw the inauguration of the first MRI and CT PET Scanner in Ziv Hospital, Zefat. Patients who needed either of these tests would have to travel to Haifa or central Israel.
Now, thanks to the generosity of David Klein, patients in the north of Israel no longer need to travel distances to receive the medical intervention/diagnostics they need.A special ceremony was held to inaugurate the new department in memory of David Klein's father, Yona Ben Shlomo Zalman z"l, who was murdered by the Nazis.
Present at this special and very moving ceremony were the Deputy Minister of Health, MK Rabbi Yaakov Litzman, the Mayor of Zefat, Ilan Shochact, dignitaries, doctors, health care workers, family and friends.
Col. Dr. Salman Zarka, the Director General of Ziv Medical Center, and the first Druze to head an Israeli hospital, thanked David for the wonderful gift to his hospital.
David said he had made numerous donations, but when he realized the fact that donating an MRI and PET-CT would fill the need to some half a million people in the north of Israel, he suddenly realized that after all his trials and tribulations, this was his raison d'etre and tikkun olam.
In the audience was a friend of David's who spoke very movingly of his time in Auschwitz, when David was 17 and he was 15, and how David had saved him by giving him a boiled potato.
David Klein is a very special friend to ESRA. Through his generosity, ESRA runs a student scholarship fund in honor of his mother, Miriam Leah Klein z"l, a fund for which we are very grateful and proud. Now this wonderful and kind individual is also helping patients in the periphery of Israel.
KOL HAKOVOD DAVID!
Comments
No comments made yet. Be the first to submit a comment