My Darling Son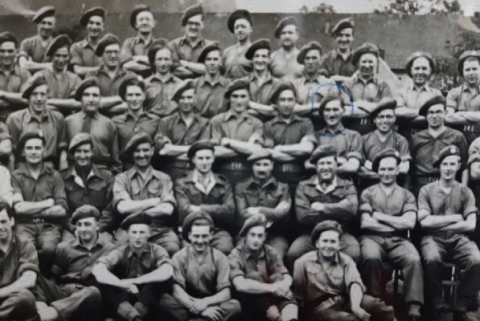 Postcards my father sent from the front during WW2 are treasured through the generations
On the day I was born, June 5, 1944, my father was sailing to France with his regiment, the 85th Field Company Royal Engineers. They were heading for Juno beach in Normandy for the D-Day landings. Corporal Moss Miller was the only Jewish soldier in the regiment.

During the journey, he received a telegram from my aunt that told him: "It's a Boy. All satisfactory". That's how he found out I was born. We didn't meet each other until the war was over and he returned home to Leeds in 1945. By then I was 14 months old. He later told me that on the boat going over, he thought to himself that if he survived, he would make me a big barmitzvah. Happily, in 1957, that is what he and my mother did.
During my father's time in Europe, he saw action in France, Belgium, Holland and Germany. While he was on active service, nearly every day, or whenever possible, he sent me a postcard headed: "My Darling Son". For security reasons he couldn't say where he was. The cards were so sweetly written, and so poignant. In one, he tells me he has sent me a teddy bear. "I hope you like it," he wrote, and he also gave me a message for my mother: "Tell her I am fit and well and not to worry if a day goes by without a letter."
He must have felt such anguish leaving my mother as she was about to give birth, and then imagining her and the baby son he had never met. He often said that writing the postcards helped to boost his morale through those long, difficult months of the war.
He had numerous amazing wartime experiences. One was when the regiment arrived at the France/Belgium border and found the bridge over the river had been blown up. The order was given to drive a tank into the river, to enable them and the many following troops to cross swiftly into Belgium.
The tank remained in the river until 1976 when it was raised up. It was renovated to pristine condition. In June 1981, my father attended a special ceremony held on Graye-sur-Mer beach in Normandy to celebrate the tank, which was nicknamed "Nottingham Bridge". Dignitaries from France, Belgium and the UK were at the ceremony.
Three years later, my father was invited to the 40th anniversary of D-Day in France, but due to his failing health he was unable to go. He passed away in January 1988, aged 78, and after my mother died in August 2001, I was given all his wartime possessions.
Last year, my son Max came with his family from Australia to Israel to celebrate my 75th birthday, which of course coincided with the 75th anniversary of D-Day. While they were with me and my wife Dianne in our home in Raanana, my grandsons Leon and Gidon were both greatly interested to hear about my father's wartime experiences and loved looking through the postcards.

Gidon, who is 15, was doing a school project so Max took photographs of both sides of many of the postcards and took them back to Australia. Max had them printed and framed, and proudly hung them on a wall in his home. Gidon's school joined with other schools in Melbourne for a special competition, with the winning project being placed in Melbourne's Jewish Museum for two years. Gidon presented the postcard photographs together with a book about his great grandfather's experiences during the war. The results of the competition haven't yet been published, but Gidon's fantastic project has been on display in the museum since February.
Both sides of one of the postcards written by Moss Miller to his baby son, Stuart
My grandson Leon, now 18, is currently in Israel on Kibbutz Sde Eliyahu. Our plan had been to travel together to Melbourne this August, when it will be my eldest granddaughter Phoebe's batmitzvah. I had hoped to visit the museum to see Gidon's wonderful work for myself. At the time of writing, all these plans are on hold due to the Coronavirus.
It's ironic that now, as I celebrate another birthday - and another anniversary of my father's D-Day heroics, I myself have to be apart from my family. At least I can be in regular two- and multi-way communication with all my children and grandchildren in Israel, Australia and the UK using Skype, Zoom and all the other modern technology that is available today, rather than only being able to send a postcard with no chance of receiving a reply.
I am sure my late parents would be gratified and thrilled to know that their descendants have perpetuated the memory of my father, "Mossie" Miller. Even though I have yet to see the exhibition for myself, I am already overwhelmed and delighted with it.
Comments
No comments made yet. Be the first to submit a comment