Making Music Spin in your Mouth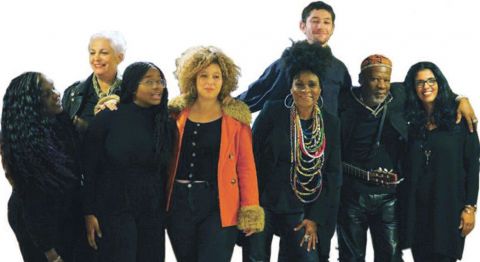 Photos by Samuel Saada

I must admit I didn't want to do it. The building in a non-descript suburb was shabby; the stairwell on a wintery evening dark and cold. Trudging up four grungy flights seemed a bit of a waste – what could this unprepossessing location possibly offer? Then the door opened and … boom! Andy Warhol's studio in the heart of south Tel Aviv, complete with drum sets and synthesizers, guitars and pretty girls, and the syncopating beat of beautiful music.
The throb of Sometimes I feel like a m-o-t-h-e-r-l-e-s-s child hit me on the nose as I stepped into the room; the words all the more haunting because of the makeup of the singers. The fabulous Fanga Gospel Choir of Tel Aviv, under the swinging baton of Hillary Sargeant, is a snapshot of the country that most mainstream Israelis do not know. Sargeant, a native of Trinidad and Tobago, brings the Caribbean beat of calypso sounds into the soulful harmonies rocking the studio. Her whole body blends into the music; she wheels and wheedles her singers into ever purer high notes and more vibrant rhythms; her choir members groove right along.
"Music is my environment, my spirituality, my life," says Sargeant, who has been in Israel since 1986. Her uncle, Vin Cardinal, was a famous singer back home; she started to sing with him at a young age. In 2017 she formed Fanga with around twenty singers; some are professionals while others just like to croon. An ex-lawyer climbs those stairs every Sunday night, and a social worker, a teacher, embassy staffers, asylum seekers. Long blonde hair swings together with dreadlocks; the language of the music and the instruction is English, but the singers speak Hebrew and Swahili at home, or German, or French. The youngest member strutting her stuff is only seven years old; the most mature in their seventies. There are Jews and Christians, Blacks and Whites "and we are searching for Arab singers to join us now," says Sergeant.
The musicians are stunning: Rimon-trained, Israeli-born, brilliant drummer Amit and wonderful pianist Noam accompany the choir each week, playing for bus-fare only.
Then there's Derick Rose, the Jamaican on guitar, whose mother had Jewish roots but who was brought up as a pious Christian and who converted to Judaism and "loves it here." Although he worked in London for many years, "my bones will rest in Israel," says Rose, who adds "Be'ezrat Hashem."
On base is Bahkooryah Ben Bavriel (literally: the Chosen Young Man of God). Born in St Joseph Missouri, he came in 1985 to join the community of Hebrew Israelites in Dimona, where he plays with a number of bands and manages a recording studio for Israeli artists. Following the Biblical injunction to return to the land of the fathers to establish it, Ben Gavriel has fathered seven kids here and is happy to call Israel home.
Then there's Ton-Ton Kalupa, a thirty-three-year-old journalist from Democratic Republic of Congo. He fled his country for Israel three years ago, leaving a wife and two kids, his job, and a choir of over two hundred singers that he used to lead. "Because of my fight against corruption, injustice and sexual harassment which I spoke up against on the radio and in songs, my life was threatened," he explains. Leaders wanted to "have my mouth shut." Ton-Ton is in Israel "to be protected, to be alive," he says, and he's happy that he can keep on singing.
Sergeant, a Whitney Houston-type firebrand in her tight black jeans, bright pink sweater and leather scarf, presides over the colorful bunch, and conducts her choir with her whole being. Her nails join in, her forehead, her bracelets. The sounds soar, and ache and sttttrrrreetchhhh into the night ' "Smile while you sing!" she exhorts; "Let the note spin in your mouth." And they do – from Soul to Gospel to the sounds of Africa – the notes spin in the singers' mouths, vibrating as they slice through the room into the ears of the audience.
The singers belt out a rollicking rendition of "Our father in heaven, hallowed be Thy name,"– although they pronounce it 'hallow-ED.' The line "Lead us not into temptation" has never sounded so sexy; the swinging, husky voices just hinting at what that temptation might actually entail. "Thy kingdom come, / Thy will be done," they sing and it's so crystal clear how belief, and conviction in a better life hereafter can make this life in dingy buildings seem so much better.
The irony, according to choir member Shai Aran, is that audiences love the diversity of the music and the eclectic sound, but in life's day to day routine, the general public is not happy about giving shelter to refugees. Still, the choir gives people on the outside a chance to perceive how the power of music can bridge the generation gap, as well as different cultures. "The refugees are recognized as real people," claims Aran.
The Fanga Choir has the beat and the beauty and delivers the goods. What they don't have is funding – the operation is run on a shoestring budget with barely any money for members. To find out more, and to catch a performance please visit their Facebook page: fanga gospel.
I came out into the Tel Aviv night feeling enriched (and oh-so wishing that I could sing.) The Fanga Gospel Choir will do that for you.
Comments
No comments made yet. Be the first to submit a comment