Kuchinate Women Empowered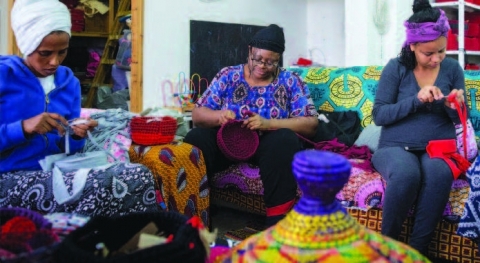 African asylum-seeking women gain empowerment in a Tel Aviv collective
Photos: Miriam Alster

The power of a group of women is not to be underestimated. I have participated in a women's exercise group in my community for close to 30 years. Whenever I need a recommendation for a plumber or want to know what product to buy for pest control, I ask my cronies in the group. We share stories about our children (and now our grandchildren!), our travels and our work. There's value in the group, and beyond staying in shape we look forward to seeing each other, we enjoy each other's company and we share helpful information with each other.

So when two of us wanted to celebrate a third's big birthday, we turned to a fourth member of the group, Michal Zimry, to recommend a special activity. And that's how we got to Kuchinate.
Michal is a social worker and family therapist, who has been working and volunteering at Kuchinate (which means crochet in Tigrinya, a Semitic language of East Africa, spoken by many people in Eritrea and Ethiopia), since its inception eight years ago. It's a unique psychosocial project geared at empowering African asylum-seeking women, many of whom have survived a variety of vulnerable situations, including torture, sexual abuse and human trafficking.Their reality usually involves an ongoing daily struggle to survive. This is augmented for those with disabilities, for single mothers and for those who have children with special needs.
In the collective, these women sit together and create useful household objects. Baskets, poufs and rugs of varying colors, sizes and shapes decorate the main room. The therapeutic value of the setting helps the women cope with the challenging realities of their daily lives. In addition, the women earn money by selling the products they design and create. They work together to maintain the collective, dividing responsibilities such as cleaning, cooking, shopping and managing incoming monies from sales and activities. They interact with the Israeli public by hosting workshops, giving crochet lessons, and preparing meals and coffee ceremonies traditional to Ethiopia and Eritrea.
When my friends and I arrived at Kuchinate, Michal was there to greet us. She showed us around and told us the history of the collective. Established in 2011, the project is part of the umbrella organization A.R.T.S. (African Refugee Therapeutic Services), a registered nonprofit that supports projects whose goal is to facilitate the rehabilitation of asylum-seeking women by offering a variety of activities. A.R.T.S. is funded by several sources, including private donors.
The space is a former warehouse in the Shapira neighborhood of South Tel Aviv. When I asked how it was converted into its present form, I was told that many people volunteered their time, energy and expertise donating and installing air conditioning units and light fixtures, providing furniture and materials necessary to create an attractive, comfortable place for the women to gather, spend a few hours and engage in activities that are meaningful to them. Volunteers come from near and far to help these asylum-seeking women improve the quality of their lives and the lives of their children. Michal is an example of a volunteer whose professional background enhances the help she offers at Kuchinate. Since 2009, she has been working and volunteering with asylum seekers, including managing a shelter for mothers and children, establishing and managing an educational-therapeutic children's club and caring for refugee families who are in need of education and financial assistance. Michal's husband Tamir took on the job of renovating the space into its present comfortable and attractive form. All the time and skills and efforts he invested were on a purely volunteer basis.
Kuchinate is the brainchild of Dr. Diddy Mymin Kahn, a clinical psychologist and trauma specialist in humanitarian aid and intervention. Diddy founded Kuchinate with Natasha Miller Gutman, an art therapist. Both Diddy and Natasha were born in South Africa. Sister Azezet Habtezghi Kidane (known as Sister Aziza) is co-director with Diddy. She is an Eritrean nun and trained nurse, who received a special commendation, "Heroes of our time", from the US Department of Foreign Affairs for her work against human trafficking in 2012.
The other members of the collective's team were born in various countries: Lina Otom Jak Agolon (South Sudan), Manager of Product Design and Development; Sister Agnese Elli (Italy), Finance Manager; Ruth Garon (Israel), Head of Marketing & Events; Tsegereda Rada (Eritrea), Quality Control Manager; Ashok Deng Loal Akowak (South Sudan) and Eden Gebre (Eritrea), Production Managers; Azeab Weldemichael (Eritrea), Children's Center Manager; Hewan Desta (Eritrea), Community Advisor and Diversity Engagement Coordinator; Selamawit Hagos (Eritrea) Sales Manager; Fiori Yonas (Eritrea), Catering Manager; Asmeret Haray (Eritrea), Event Coordinator and Childcare Director; and Elana Ben Haim (America/Israel), Volunteer Director of Development.
While at Kuchinate we took a crocheting lesson given by Lina, who is married with four children (ages 14, 12, 10 and 8). Lina's great artistic talent is utilized well at Kuchinate, where she crochets rugs and baskets, and is responsible for developing new products and arranging the store. As we talked, Lina guided us in creating beautiful small baskets. We were offered refreshments typical to the collective's members: popcorn, served in a beautiful, multi-colored hand-crocheted basket, seasoned with salt and sugar – very tasty.
The collective has participated in several collaborative exhibitions with artists over the years. They have exhibited their work at Beit Ha'ir, The Haifa Museum of Art, The Tel Aviv Museum of Art, The Feldman Gallery in New York, the African Studies Gallery, Abraham's Hostel and Ruppin College. They have also taken part in art installations in the city of Tel Aviv, with the aim of raising awareness about the plight of asylum seekers in Israel.
While I was at Kuchinate, a well-known clothing designer stopped in and commissioned large baskets for his studio. In this way, he will be getting authentic, beautiful decorations for his clientele to enjoy and income will be generated for the women creating the baskets.
In this day and age, with problems abounding, it is encouraging and heart-warming to encounter an endeavor that is upholding the Jewish traditions of helping those in need and welcoming those from foreign lands.
Comments
No comments made yet. Be the first to submit a comment