Knitting for the 'Forgotten Ones'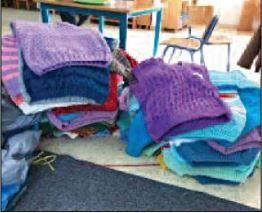 Dear Jane Kessler and Wendy Goldstein,
On behalf of the Forgotten People Fund, I am writing to thank you and the ESRA Raanana Knitting Club for the wonderful donation of all the knitwear that I recently collected from you, which has already been given out to the needy Ethiopian families here in Netanya. The timing is brilliant as the weather has changed and the children are in need of nice warm clothing.
It is truly a huge mitzvah that your ladies have done in providing all this beautiful knitwear, and we thank you with all our hearts.
Anne Silverman, Chairperson
The Forgotten People Fund, Netanya
Comments
No comments made yet. Be the first to submit a comment