The ESRA Store in Modiin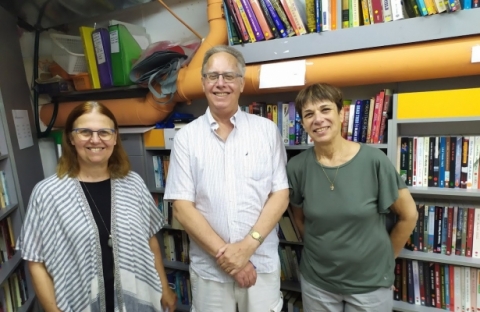 Journey Between Bookstores
Translated from the Hebrew by Norman Silbert

Photos:Tal Sharet
An island of light in a colorless sea
I decided to begin my journey "Among the Bookstores" very close to home in a colorless place, the least likely place you would expect to find a bookstore.
In the sub-level of the parking lot of the Modiin Mall, there is an ESRA bookstore. To the observer from the outside, it's hard to imagine how much light and space, and how many treasures can be found in a small room in a colorless parking lot.
When I called Bob (Robert Golub), the store manager, and suggested that I interview him about the store, he immediately agreed. "We'll sit in a cafe," he suggested, "then go down to the store." "Or actually," he reconsidered, "it would be better if you bring a cup of coffee and we sit down to talk in the store."
I liked the idea. There is nothing like sitting surrounded by books inside a bright store and hearing about the place, the idea behind it, and the people who work there.
Do you have cash?
While we waited for the customers to vacate the little shop, I looked around me and breathed in the place. "Sorry," I heard Ilana at the checkout explain to the customer. "We only work with cash. The money will be donated and every shekel is precious to us. We do not want to lose out on it in favor of the credit card companies." For the same reason, the store does not give away shopping bags with a logo. Instead, the store uses bags which the volunteers bring from home that they have accumulated from their own purchases in various stores. "Interesting idea," I thought to myself. "It's refreshing to meet such thinking in a world that gives so much importance to appearances."
ESRA is a national organization of English speaking immigrants. Established 41 years ago, it has 20 branches across the country, one of them in Modin. The raison d'etre was to create a framework for English speakers, immigrants and oldtimers, in which they would feel at home and part of a community, with others sharing the same language and a similar cultural background. Bob himself emigrated from the United States and settled in Modiin a few years ago.

At the same time, the association set itself the goal of volunteering to advance community projects here in Israel. There is nothing like donating and volunteering to connect with a place and feel part of it. (And the Hebrew name עזרה is in this same spirit.)
Shop in the parking lot
ESRA operates five stores, including three bookstores, in Modiin, Raanana, and another store that operates one day a week in Zichron Yaacov.
Surprisingly, the store in Modiin, which is located in a less than ideal and not very pleasant location, is very active. Since there is only one mall in Modiin, almost all the residents of the city shop there, and many of them use the parking lot and pass the store which is right next to the exit.
I have visited the store many times and enjoyed the pleasant and relaxed atmosphere, the exemplary order that prevails in the small place, and of course I leafed through various books. I usually left with a book or two in my bag.
I often bought nostalgic children's books in English there. I had previously searched for some of them for a long time on the Internet or in large second-hand stores, and even in the United States when I visited there - and was thrilled to find them in the small ESRA store near my home. On my last visit for the purpose of this interview, I discovered a comic book for girls, and a beautiful edition of "Mother Goose" rhymes, both in English of course. In return, I parted with only 30 shekels.
Not every book
All books in the store originated as donations, and are sold at very low prices. Since the place is small, the store management set guidelines for the books in the store. Although these are second-hand books, it only sells books that are in very good condition; individual books and not series, literature, light reading (cookbooks for example) and non-reference books. You will find there books for adults published from 1995 onwards, while with children's books there is no limit of years, because there are many classics, but there is strict adherence to the good condition of the books. All books are marked with colored stickers according to the price list.
Hebrew speakers also welcome
"Most of our books are in English," Bob explained. "Since the store is a center for the Anglo community, most of our shoppers speak English and they are the most frequent book donors. But over time more and more Hebrew speakers have started to come to the store. The demand for Hebrew books has increased and so have Hebrew book donations." "Ilana, whom you met earlier at the register, is in charge of the Hebrew collection." And I, who know the store, did notice that a bookcase or two had recently been added to house the Hebrew books. "Some complain about it," Bob added apologetically. "They are afraid that there won't be room for the English books. But we are actually happy that Hebrew speakers are finding their place here as well." "Role reversal," I smiled, "the Anglos are absorbing the native Israelis into their territory…"
A roster of volunteers
The store, which is open six days a week, is run solely by volunteers, including Bob who is the manager. In addition, there is a steering committee of eight of the volunteers (all women) and the only man – Bob.
"I'm less a 'man of books," attests Bob. "My strength is management and practical matters, but committee members are all savvy and book lovers. It's good," he added after some reflection, "I think there's a balance. For example, if there is extra space on one of the shelves," Bob points to a specific shelf, "I immediately notice it and fix it. Or problems with the air conditioner and so on."
The 50-60 volunteers are all over the age of 60. Each volunteer goes through an overlap period with a veteran volunteer and then commits to donating two shifts a month. "Nowadays, in the days of the coronavirus, there are volunteers who are afraid to return here. We, of course, follow the health requirements in the store, but we accept it. We manage with those who do come. Even on normal days, there are always those who are not available because this is an immigrant population. Some travel abroad for family who still live there, or for friends, for periods of several weeks or even longer, so the complement of volunteers is based on reduced availability," Bob explains.
Books that do not fit - pass it on
At the entrance to the store there is a sign with a request to hand over the books in person (and not to leave boxes or bags near the store). But what do you do with books that are nevertheless left and are not suitable for the store?
In the past such books were put in recycling bins, but the feeling was that it was a pity, considering ESRA's goal of giving. Today the books are transferred to two beautiful volunteer projects.
Children's books in English are given to Jacob Stockman, who coordinates an exciting project. He founded an association that operates in Mumbai, India. In preparation for his travels there, he collects books for children in English that are not needed here, and once every few months, he transfers them to the library at the GPM - Gabriel Project Mumbai in the heart of a slum in Mumbai. The library is part of a school where several hundred children learn. The name of the school is Joshua Greenberger Learning, named after one of the association's volunteers, who passed away in 2017.
Mr. Jacob Stockman is also from Modiin. It turns out that one does not have to travel far to discover wonderful things.
Books in Hebrew are given to a woman who established a Give-Take library in Bet Shemesh.
"Do you know the movie Pass It On?," I asked Bob. And he did know it. This is my feeling, just like in a movie the good is passed on, like ripples in water. Circles of giving.
Dream?
"So you're happy with the location? With the congestion and parking, you won't move from here soon?" I asked, and I planned to ask if he has a dream about a store. Bob anticipated me in his reply. "No, no, we won't move," said Bob, reflecting for a moment. "I would like to have a coffee corner and tables with comfortable chairs… But the location is so successful that we will stay with what we have."
As for me? I imagined this store in a green and open place, inviting its customers to sit and flip through books with a cup of coffee in hand. But I completely understood his words.
"There is a message and beauty in simplicity," I replied to him and perhaps to myself, "When you come in here, and see how well-organized it is, and feel the welcoming atmosphere and the professionalism, you completely forget that this is a tiny store inside a dreary parking lot. And this is its strength."
I left excited and I will return…
I left the store excited. I had met a welcoming man, serious in his work, and I got a lot of answers to the questions I asked and to some I did not ask. I had discovered a whole world. I learned about another community of volunteers in Modiin. I connected to the feeling that a bookstore is much more than a store. It is a home, and serves as a growth medium for so many people and exciting initiatives.
Next time you are in Modiin, go down to the parking lot of the Azrieli Mall, to the sub-floor.
There, near the exit, you will find an island of light and atmosphere, and a sea of books.
The ESRA Book Shop Modiin is open Sunday – Friday 10:00-13:00, Tuesday, Wednesday & Thursday 16:00-19:00. Tel: 09 634 6528
Comments
No comments made yet. Be the first to submit a comment