Into the Woods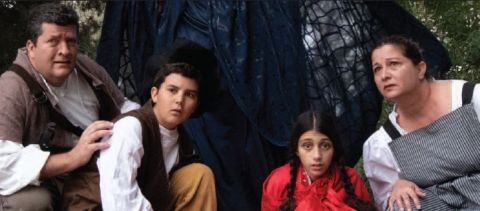 How is a musical featuring Cinderella, Jack and the Beanstalk, Rapunzel, Little Red Riding Hood, two princes and an angry giant not a children's show? Into the Woods, the multi-award winning musical by Stephen Sondheim and James Lapine, weaves together the Brothers Grimm figures with two new characters, a baker and his wife cursed with barrenness. It's a story about wishes, family, the choices we make and whether or not we get what we deserve.
This imaginary – and very adult – musical tale is The Light Opera Group of the Negev's (LOGON's) 2019 production, which will be staged around the country in March. The choice of a Stephen Sondheim musical is a departure for LOGON, which has largely staged "classical" Broadway shows, including lavish productions of Fiddler on the Roof, My Fair Lady and Oliver.
One of Sondheim's most popular works, Into the Woods, is a musically sophisticated Broadway show originally staged in 1987, when it won numerous awards. The stage musical was adapted for a hit movie in 2014, starring Meryl Streep as the witch and Johnny Depp as the wolf. The film, frequently shown on Israeli TV, slightly changed (and somewhat sanitized) the stage version's plot. Sometimes funny, sometimes dark, the show's storyline is an interesting twist on the tales you thought you knew. Spoiler alert: nobody quite lives happily ever after.
"Into the Woods has some marvelous characters, and although very comic and amusing at times, it also has a dark side to it," comments the show's producer Patrice Perez, who also plays the witch in the show. "This musical isn't the usual "happy ever after" theme – boy meets girl, boy gets girl, all is well. Sometimes things are not what they appear to be. As the witch warns, 'Sometimes the things you most wish for, are not to be touched!'," adds Perez.
"The play is complicated from every point of view, which is quite a challenge for all of us, both theatrically and philosophically," explains LOGON's long-time stage director Yaacov Amsellem. "In a way, it's more of a movie than a stage play, which can be fun if challenging. For example, how do you portray a cow on stage that falls over and dies, then comes back to life?" (N.B. You'll have to wait to see the show to learn how LOGON does this!)
Into the Woods is also different from LOGON's previous productions in its message, adds Amsellem. "It's a revolution, really. All our preconceptions are suddenly not so clear. The Witch may not really be evil. Cinderella is quite ambivalent about love. Jack is not so innocent. The play slays a lot of sacred cows," he says.
Into the Woods is LOGON's 38th production. LOGON, which draws participants from the south of the country, is the oldest existing English language community theater group in Israel. Founded originally to perform Gilbert and Sullivan operettas, for many years the company has staged a different Broadway musical every year, taking its productions around the country to a wide audience of all ages.
"LOGON is the only community theater group I know of with such an intensive rehearsal schedule," comments director Amsellem. "It's impressive how seriously everyone, especially the children, take this work." A veteran member of the professional Negev Theater, with a rich experience directing community and youth theater groups, Amsellem was honored with a life-time achievement award last year by the National Community Theater organization, which works with the Tzavta Theater.
He is joined this year by musical director David Waldman, voice coach Kristina Hawthorneand choreographer Sharon Atun Morali.
LOGON is also the only English language theater group whose ticket sales support local charitable organizations such as ESRA and the AACI. It will be performing Into the Woods in March in Arad, Givatayim, Modiin, Netanya, Ashkelon, Jerusalem, Raanana and Beer Sheva. For tickets through ESRA for Raanana call09 748 2957. All tickets from the ticket hotline 08 641 4081, or on the website: www.negevlightopera.com and at eventbuzz, https://eventbuzz.co.il/producer/e/logon
Comments
No comments made yet. Be the first to submit a comment