Golf Facility for Special Needs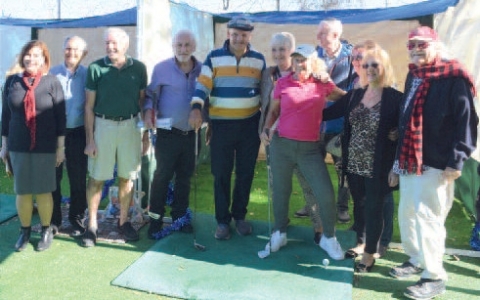 Story and photos by Malcolm Mandel

Golfer Mark Bloom is the man behind a new unique golf teaching facility in Israel for people with special needs. The center, at Kibbutz Beit Yitchak, near Netanya, was opened at an event in December attended by a large crowd of invited guests, many of them Irish.
Mark has constructed practice nets and converted a sandpit into an area for practicing sand shots.
The founder of the pogram is Nora Leiczuk Goldfinger and her husband, and the facility was opened by a niece, who cut the ribbon.
Ruth Ryb, a former student of Mark, played the first ball in the facility.
Malcolm Gafson, Chairman of the Israel Ireland Friendship League, popped the cork on a bottle of champagne and guests enjoyed a sumptuous brunch accompanied by the usual Irish 'touch of the hard stuff'.
Guests included Earl Tunick and his wife, the parents of Spencer Tunick, the world renowned photographer best known for organizing large-scale nude shots.
Comments
No comments made yet. Be the first to submit a comment