Go and Take a Hike!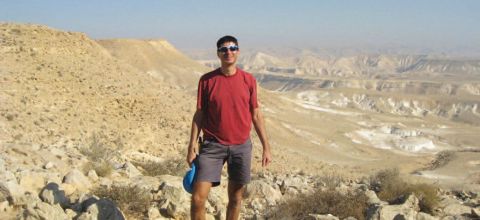 New website in English on hiking and nature in Israel
I am just another Israeli guy in my 50s, living in the Galilee and making my living with an ordinary office job.
I am a mechanical engineer by profession, but my real passion is nature and outdoors. I love the country and its nature. I have hiked our trails for decades, and although I am not a professional guide, I have good knowledge on the topic.
When I hike in Israel, I rarely meet tourists on the trails. The fact that most tourists are rarely experiencing our natural gems troubled and saddened me. When I tried to figure out the reason for this situation, I concluded that the main reason is an almost total lack of quality and detailed information on the subject that in English.
Last year (2018) I decided to do something about it and started to try and promote hiking tourism in the country. I created my own website "Israel by Foot" where I try to put all my skill and passion into creating practical, high quality information on the topic and spreading it to foreign tourists.
The website features detailed descriptions, maps and GPS files for Hikes that cover the entire country from North to South and ranges from easy, short walks to demanding, long hikes.
In addition, it provides a series of Scenic Road Trips that are combined with short walks and cultural sites along the route. The website also includes directions to Picnic Spots in unique locations as well as a wealth of additional information on nature related issues.
We are also starting a new program of Weekly Guided Group Hikes. Tourists will be able to book well in advance through our online calendar and hike with ease and confidence with our professional guides.
Check out more at: https://hike-israel.com/
Comments
No comments made yet. Be the first to submit a comment