Do You Know What an "Istenis" Is?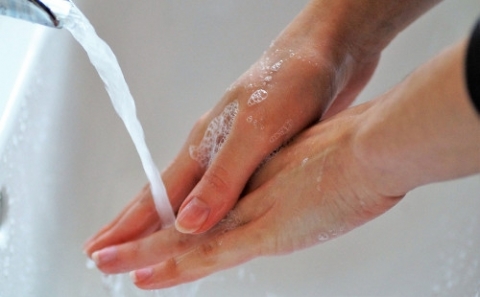 Sitting in my usual pew seat during the break between Mincha and Maariv one evening during Sukkot, I became vaguely aware of a private Talmud tutoring session across the aisle from me. It was between one of our senior minyan regulars and a young man who needed help with the text.

I was not eavesdropping, but did hear that the Cohen Gadol, the High Priest, who was to be washed with cold water on Yom Kippur, could also have warm water added if he were old or an "istenis."
The older man asked the young student in Hebrew, "Do you know what an 'istenis' is?"
"No."
"An istenis is someone who is especially sensitive to the cleanliness of his surroundings, to his health, to his food, because he sees himself as weak or delicate."
At this point, I tuned into their lesson. I thought to myself that COVID-19, with all of the government warnings, rules and regulations, has turned each and every one of us into an "istenis."
I was thinking this while sitting in a synagogue where you need to have a "tav yarok" to enter. We have to wear surgical masks inside because we are afraid to breathe the air around us.
Besides the usual washing before eating or before leaving the bathroom, I have never washed my hands so much during the day, as I do now in response to COVID-19. Since we are back to shaking hands in shul, the first thing I do when I come back home, is to wash my hands. In fact, every time I go outside the apartment, I wash my hands when I come back home.
And how do I wash my hands? I use warm water and soft soap that includes thoroughly washing between my fingers, all the while singing in my mind, "Happy birthday to you" twice, in hopes of achieving the suggested twenty seconds. The hand washing makes me think of the pre-COVID-19 American TV series, Monk, about an O.C.D. private detective. One scene has Monk washing his hands while timing himself with an hourglass by the sink. At one time, we would shake our heads in amusement over germaphobes like Howard Hughes. All kinds of germs and diseases exist around us at all times besides COVID-19. Who would have guessed that COVID-19 could have turned us all into obsessive compulsives?
As obesity is a co-morbidity that makes one more vulnerable to COVID-19's bad results, I became a picky eater. Since the early days of the pandemic, when we started ordering online and having our groceries delivered, I have eschewed all forms of junk food. We bought only the basics and did not impulse-buy like we used to while walking in the snack aisle of the supermarket. My weight and clothing sizes are now the same as when I was in my mid-thirties. Although we are back to shopping in the supermarket, COVID-19 precautions have, in this sense, made me look and feel better! On the other hand, I have become obsessive about food like never before outside of keeping kosher.
We are told that at our ages (I'm 75, my wife, 73), we do not have strong enough natural immune systems to combat COVID-19 without the vaccines and boosters. As a group, we are categorized by age, irrespective of our personal health and robustness, as weak and sensitive in the face of COVID-19.
We are afraid of the air we breathe, wash our hands obsessively, limit our close human contact, vie for appointments to get vaccine jabs and the "Green Card," have become picky eaters, and have been made to think of ourselves as weak and sensitive.
Do you know what an "istenis" is?
I do.
It is each and every one of us since the advent of COVID-19.
Comments
No comments made yet. Be the first to submit a comment