Curiosity Prompted Dig at Ancient Site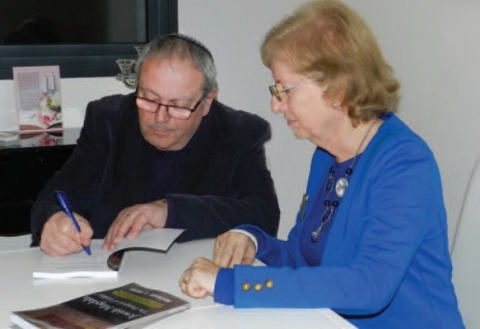 Photos: Carol Eisenberg

How many times have we driven around the shores of the Sea of Galilee to visit the Christian sites with our visitors from abroad? Now is the time to set our sights (and Waze) on the ancient town of Migdal, called Magdala. Magdala has been uncovered and is revealing its Jewish history and the strength of its Jewish presence.

Michael Moss is a member of ESRA and author of the book Jewish Magdala 'The Pompeii of Galilee'. His talk gave a rare insight into the excavations of Magdala, and how his Jewish faith and curiosity prompted him to record these facts and findings after three years of archaeological excavation. Alongside historical, Jewish, and religious research, he developed a depth of understanding of the importance of ancient Magdala to the Jewish people.
His Jewish perspective grants an insight into the significance of Magdala during the era of the Second Temple ‒ how a small, fishing town made famous by Christianity as the alleged home of Mary Magdalene, one of Jesus' disciples, was actually home to the Kohanim who served in the Temple in Jerusalem.
Michael brings to light the thriving fishing town of Magdala, which exported fish throughout the Roman Empire. However, more importantly, he emphasizes the priestly character of Magdala, its dwelling places and its ritual baths. The ancient synagogue revealed prayer rooms, frescoed columns, a mosaic floor, and also the famous Magdala Stone. The intact Magdala Stone is an exquisitely carved stone depiction of the Temple and is deemed a highly significant artifact of Israel's history. In his book, Michael answers questions and challenges many opinions and misconceptions pertaining to Magdala's ancient history, the people who lived there and their religious significance.
It was a privilege to learn about the Jewish history of the town of Magdala from a Jewish approach and perspective. Michael's six-year labor-of-love at Magdala has created an illustrated book that is both descriptive and historical, yet binds us with emotional attachment.
We are grateful to Michael for providing this amazing insight into the Jewish town of Magdala, which after being hidden from sight for two thousand years, is now revealing its significant place in Jewish history.
■Signed copies of Jewish Magdala are available to ESRA members for NIS50 from This email address is being protected from spambots. You need JavaScript enabled to view it.
and it's also available at Amazon.com
Comments
No comments made yet. Be the first to submit a comment