'Blanket Coverage' for Soldiers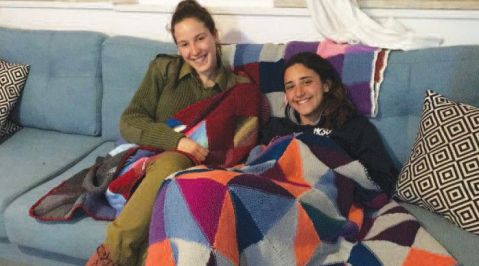 Thank you so much to the women of ESRA Modiin for the warm hats and beautiful blankets that they knitted for lone soldiers. The hats were so popular that they were given out before we had a chance to take pictures. The picture is of two of the lone soldiers with the blankets who live in the Mekor Chayim Lone Soldier Home for female lone soldiers. They absolutely love them!
The home was opened after the success of the other homes that the Lone Soldier Center manages. Ten female lone soldiers live in the home, which is in the Mekor Chayim neighborhood. They have a live-in counselor, who is herself a former lone soldier, to take care of their needs.
Lone soldiers come home on weekends to mostly empty apartments, where no one has been home for a few weeks. In our homes we provide a safe environment, food, Shabbat meals and a community that they call their family.
Thank you again for knitting for these brave young men and women.
Lizzie Noach, Community Relations
The Lone Soldier Center in memory of Michael Levin
Comments
No comments made yet. Be the first to submit a comment