A Walk in the Park for the Kfar Shmaryahu Club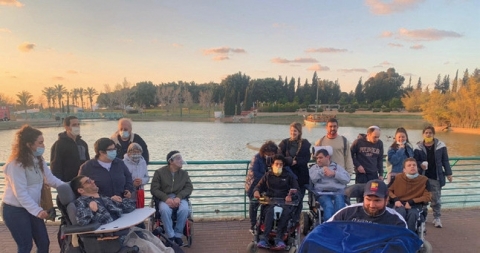 Photos by Omri Horesh

After more than a year of conducting Zoom meetings, the Kfar Shmaryahu Club for persons with handicaps finally met in the Raanana Park in April.

This was the first face-to-face meeting for me with the group. I started as the new facilitator in October 2020 and it was quite a challenging period only to see my group on Zoom. Even though we managed to reach a very high level of understanding and openness, nevertheless the frontal session was missing. Even before the meeting there was a lot of excitement among the participants and I was also very excited. In our WhatsApp group throughout the day the participants wrote messages saying how much they were waiting for the meeting.
At 18.00 we met in the park, which is charming, tidy, accessible and clean. There were not many people around which also contributed to the intimacy of the event. We gathered, chatted and started a slow walk around the lake. The participants were so happy to meet each other again. This group has been together for many years and now they had not seen each other for almost a year. We were accompanied by parents and caregivers, who helped a lot with mobility. We took pictures, laughed, walked slowly so that everyone would feel comfortable. We were also accompanied by our new group of students from the Ruppin College who had also only met the participants on Zoom.
We returned to the central area and our lovely volunteer Inge David gave us an exercise class. The group really likes Inge's exercises which she has been doing with them for years and which she even continued in the Zoom sessions. Eilam loves to help her count, it gives him a sense of contribution and helpfulness.
At 7.30pm a special order of drinks and pizzas arrived, with a variety of toppings that everyone loved. We sat in a large circle around the table. Everyone ate and enjoyed.
There was one unaccompanied participant who needed help with feeding. One of the students helped him and fed him. At the end of the session when I asked the student how it felt to him, he said he was a little surprised because he did not think it was something he would do, but that it felt really comfortable to him and he was happy to help and connect.
In conclusion, it was an exciting, intimate, joyful, funny and loving encounter.
Waiting for next time.
Tal Mizrachi is the Group Facilitator of the Kfar Shmaryahu Club
Comments
No comments made yet. Be the first to submit a comment