A Beauty Contest for Holocaust Survivors?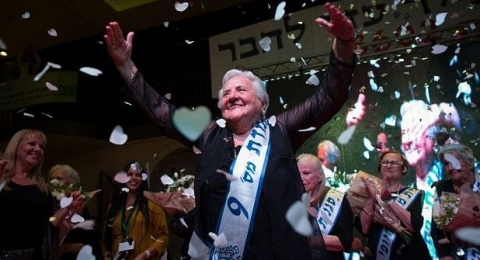 Photos by Yad Ezer L'Haver

"A Beauty Contest for Holocaust Survivors? Seriously?" I thought when I learnt about the annual pageant for Holocaust Survivors held by Yad Ezer L'Haver, a nonprofit organization which provides assisted living for Holocaust Survivors in Haifa.
No, you did not misunderstand. It is a Beauty Pageant, where the participants take part willingly with joy and anticipation.
A few years ago, Doctor Isabella Greenberg, a renowned trauma therapist who volunteers at Yad Ezer L'Haver, and Shimon Sabag, the founder and manager of the organization, had an idea.
Women who survived the Holocaust are the victims of the darkest chapter of human history. And as young girls, they didn't have a chance to experience what it means to feel feminine. Their bodies became a battlefield. Now, in the third stage of their life, they are celebrating their story and their beauty, their inner beauty, which did not have a chance to shine before.
Perhaps that is why the beauty contest is the highlight of their year. It is a big event in a small Mediterranean town in Israel - Haifa.
I went online to learn more, and found that most of what is written about Yad Ezer L'Haver relates to this most unusual of beauty contests. Here are some of the comments:
"Israel's 'Miss Holocaust Survivor' Beauty Pageant Raises Eyebrows"
"Women who experienced horrors in the early years of their lives get a chance to enjoy some glamour and attention as they push into their 80s"
"Totally macabre … one-time pageant masquerading (survivors) with beautiful clothes is not what is going to make their lives more meaningful"
"Good idea, bad execution"
"Business people make on Holocaust Survivors"
"Wonderful celebration"
The critical and supportive comments go on.
What was clear was that the contest did not leave anyone indifferent. From members of the Knesset (Israel's Parliament) to worldwide YouTube influencers, everyone had an opinion about the pageant involving Holocaust survivors.
I decided to find out more. What was behind this controversial contest? Why did it bring so much joy to the people involved and draw public criticism from others?
Meeting Shimon Sabag, the founder of Yad Ezer L'Haver - organizer of the pageant
As soon as you arrive at Yad Ezer L'Haver office in Haifa you see the photos of the contestants of "Miss Holocaust Survivor" from each year since 2012, when the first contest was held.
Shimon Sabag, the founder and the manager of Yad Ezer, gets even more excited than the elderly ladies at the compound when he tells me about the contest. Because of my limited Hebrew, I do not quite grasp the whole concept of this contest. But I do get that for Shimon it is something very important and of which he feels very proud.
When I spoke to the residents at Yad Ezer, where I volunteered, they told me about the organization's activities and how much they regretted that the traditional contest, planned to take place in March 2020, had to be cancelled because of the pandemic.
"We do it every year. Only this year we had to postpone it, everything is ready, and as soon as we are over the corona, we will do it. You will see it yourself. It's held in the big hall at the Congress Center (one of the biggest public event places in Haifa) with a lot of people, journalists and my beautiful ladies - the Holocaust Survivors. They are on the stage in beautiful clothes, shining eyes, with makeup and their hair done. It is their night; they are the stars of the show. It is davar gadol ("a big thing", in Hebrew)", said Shimon.
I went online to learn more , and I came across a teaser of the documentary Miss Holocaust Survivor by German-Polish writer and director Radek Wegrzyn and his Italian business partner, producer Roberto Gagnor.
Meeting the producers of the documentary Miss Holocaust Survivor
The teaser starts with a beautiful scene of a grey-haired lady sitting against a sunset on the beach. This is a "documentary about a unique beauty pageant for Holocaust survivors, where the most beautiful story wins. It is a story of three incredible women, and why we must save their narratives", as Radek Wegrzyn says in his introduction to the documentary.
I find myself messaging Roberto on his Facebook, asking him questions about the project.
From him I discover that Miss Holocaust Survivor is currently in the editing phase, aiming to be ready for the world's major film festivals in early 2021.
My excitement grows, and I arrange a Skype call with Radek and Roberto to talk more about their film. I needed to find out about the gut feeling that made Radek come to Israel, meet the participants and organizers of the contest and decide to make a feature-length documentary about it.
"Radek read about the contest in the Guardian back in 2016. My first reaction was strange. I want to read more, which is usually what Radek and I do feel when there's a good story involved. After years of writing, searching, finding, working on stories, you do develop some kind of instinct about it. You just feel there's a story worth telling", Roberto Gagnor tells me.
A universal story
Miss Holocaust Survivor follows three women, whose stories lead up to the night of the beauty contest. Rita, Tova and Madeleine are independent, creative, feisty elderly women living at the assisted apartments provided by Yad Ezer L'Haver in Haifa.
As the documentary's press release says: "These women had lives in three acts. The first act: the Holocaust and the harrowing days of their childhood and youth. Their second act: rebuilding their lives in Israel and America, creating families and building a country. Now, we see their third act: making peace with their stories and celebrating their achievements at the Miss Holocaust beauty pageant. Our documentary will use different techniques to tell these remarkable stories. We will also recreate one stunning moment of one story: a return to life. But this story is also about the relationships born in the retirement home: at the end of the day, these women retain all their quirks, edges, tics and humor".
"We are emphasizing the issue of beauty because we don't want to make a film "just" about the Holocaust, thus falling in the usual traps of such a film: survivors as victims and just that, forgetting the human aspect in favor of the simply historical one. Most movies about the Holocaust want to make you feel sorry and understand the terrible weight of it, and of course, this is right, this is important. But after the 500th film in that vein, audiences risk being desensitized and going, 'Oh, yeah, I know about that'. Then you make it less; you trivialize it", continues Roberto.
I understand Radek and Roberto's point that we need to talk about the Holocaust differently: a more universal approach, that would open us to more artistic ways to tell the story and reach a bigger audience.
"What about all the critics and negative comments about the contest? Do you think it is a clichéd and cheap way to bring attention to Holocaust Survivors?" I ask Roberto and Radek.
"I think whatever makes people who suffered that much happy in their old age, and helps them, and shelters them, is something inherently good. My grandmothers died in the past two years, and I know how old age is. I do not think the pageant is demeaning to them: on the contrary, I think it's beautiful", answered Radek.
The third act
For Roberto, it is important because it's probably the last chance to see, hear and record the survivors in their moment of triumph, their third act. "It's about never forgetting what happened, and doing so in an authentic, artistic way. Radek is extremely good at portraying deep emotions on film, at understanding people in their happiness and their suffering, so he has the perfect directing ethos and vision for this film. So when we set up Magical Realist, our joint company for documentaries production, we decided it had to be our first film with our producers, with all the economic and artistic risks involved: because it's a precious story that can't be lost", concludes Roberto.
The telling of this story will be bold enough to stir conflict (people who don't like it vs the survivors enjoying it). It will give all of us, connected or not connected to the Holocaust, empathy and emotion.
Miss Holocaust Survivor aims to be a unique, universal story relevant to today, a time when the terrible lessons of Holocaust risk being ignored or even forgotten, politically and culturally.
We need a new point of view about it, through a story that goes beyond the surface. Ignoring the stereotypes and looking at the humanity, universal values, and inner beauty of the pageant's contestants might be the new view of the Holocaust that we need.
This is a story that challenges the deniers of the Holocaust and everyone else to look at the humanity of the survivors and their willingness to live, fulfilling life beyond their age and "survivor status".
Comments
No comments made yet. Be the first to submit a comment