Center Stage – A Light in the Face of Adversity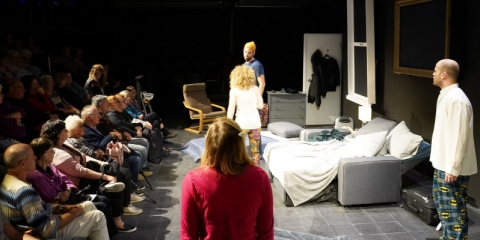 There is a cozy little theater around the corner on HaMasger Street in the Raanana industrial area. It was born out of a dream that we harbored for 20 years: to open the first professional English language theater in Israel. In February 2019, that dream began to come true. For nine months we poured everything we had into transforming an empty space into a beautiful theater and bar lounge. We called it Center Stage. In November, we opened our doors to the community and in return, the community embraced us wholeheartedly. We brought in a show from New York, produced two sold-out shows, hosted guest shows and lectures. The place began to hum with creative life.
Three-and-a-half months into our adventure and the world turned upside down. Theaters were ordered to close and the whole country was ordered into lockdown. We realized that our dream was in jeopardy and decided that we would do everything we could to keep it alive. We were determined to keep a ghost light on at the theater and not "go gentle into the night".
Pivoting indicates some form of controlled movement from a fixed point. However, during a pandemic, there is no fixed point. Everything is constantly moving, so being fluid is key. We decided that "connection" was going to be our fixed point and guiding mantra for Center Stage. Human connection is what drives theater, arts and culture. Theater reminds us that we are not alone in this, or any, experience. It is a truly collaborative process in which the audience plays a vital role. We knew that we had to be fluid, keep doing, engage our creative minds and think out of the box in order to remain relevant.
Like many theaters around the world, Center Stage immediately embraced the only platform available to it: the digital platform. The first event we organized was a 5-minute play festival. It was quick and dirty, with the initial goal of simply getting something out there and keeping the connection. We put out a call for scripts and received seven submissions. What we did not anticipate was the incredible enthusiasm of actors around the world who contacted us to take part in the project. Zoom allowed us to transcend borders. Our first festival included actors from all over the world and was so well received that we decided Center Stage should to do it again a month later. This time we received over 90 script submissions from as far afield as New Zealand, Italy, the Netherlands, Ireland, and Australia among others. Connecting was working.
Our efforts soon came to the attention of Danielle Faitelson and David Winitsky of the Jewish Plays Project (JPP) in New York. Through this connection, Center Stage was asked to become a theater partner in the Jewish Plays Contest which was held online. Ours was the first theater in Israel to partner with JPP on this contest and provide an Israeli viewpoint on new Jewish plays.
This led to Center Stage collaborating with the America Israel Friendship League (AIFL) in a fun webinar and panel discussion about theater, during which excerpts from two of our plays produced during the pandemic were presented. The webinar received close to six thousand views. The connections were growing.
Coming to terms with the fact that the pandemic was going to be a prolonged affair, and understanding the dark void in which theater, culture and the artistic community were plunged into, we once more mobilized to keep theater in the public domain and embarked on a weekly live interview / talk show series called On Cue. The idea was to provide an entertaining glimpse into the lives of artists (actors, stand-up comedians, directors, producers, dancers, etc.) who were contributing to English theater in Israel or Jewish theater abroad.
The series has been running since August 2020 and continues every Sunday evening. When theaters are allowed to open again, we will continue with the talk show series with a live studio audience. We realized that connecting with our community to bridge the gap between artists and the audience was a winning strategy. This is something that we will continue even when we are able to open our theater once again.
A few months ago, Center Stage came out with a new initiative called Songs at the Center. This brought a whole new set of challenges under the circumstances. Zoom is great for talk shows, interviews and business but it doesn't work for live music, particularly when it requires singing together. All the videos that you see on Facebook or YouTube are pre-recorded and edited. Center Stage wanted to do it all "LIVE". It was the live factor that stumped us…but not for long. The singers rehearsed (sort of) via Zoom. They limited the number of singers to eight to stay within the regulation guidelines and came together as a "capsule" on the night to sing, live via Zoom, to a very appreciative global audience.
As we enter the beginning of the end of this pandemic, we can reflect on this time and be proud of what we have achieved. Unlike other industries which opened sporadically, the theater industry was closed and never reopened. So far, we have survived with no help whatsoever from the government. We carry an even greater debt now than when we originally opened. But we have kept moving because when you are moving there is no time for fear, no time for doubt. Great theater comes out of adversity and connections forged during adversity are more profound and last longer. We plan on continuing to provide great theater for you and becoming the creative hub of our community that is just around the corner on Hamasger Street in the Raanana industrial area.
Comments
No comments made yet. Be the first to submit a comment