Bike Ride Salutes Righteous Italian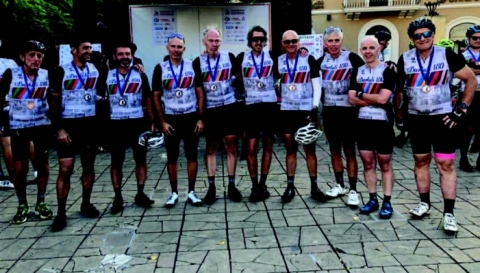 Last September I participated in a remarkable and inspiring bike ride in Italy. I was one of a group of 45 riders who rode from Florence to Assisi in one day, a distance of 200 km, to honor the memory of Gino Bartali, the legendary Italian cyclist who saved many Jews in 1943 by hiding false passports and documents in the tubes of his bike, and distributing them to Jewish refugees to enable them to escape Italy from the Nazis.
This is his story and it's also the story of the Bartali Youth Leadership school, established here in Israel, in Ben Shemen Village.
Gino Bartali was an Italian professional bike rider who won the Tour de France twice, and the Giro de Italia. He was born in a small town outside Florence in 1914. He began working in a bicycle shop when he was 13. He started racing at 17, became a promising amateur and turned professional in 1935 when he was 21.
He won his first Giro d'Italia the next year, in 1936. The Italian Cycling Federation then compelled him to compete in the Tour de France in order to increase Italy's cycling reputation abroad. Italian Fascist leader Benito Mussolini had come to power in 1922. Italian Fascists hoped that a victory in the Tour de France would demonstrate the superiority of Fascism and the "Italian Race". Bartali did in fact, win the Tour de France in 1938. However, Bartali had no sympathies for the regime, and consequently he received no honors from Mussolini on his return to Italy. But he had countless major victories which took him to a peak of popularity and turned him into a symbol of heroism in the Italian people's imagination.
The year 1938 also brought a dramatic change for Italian Jews, as the Fascist Grand Council approved anti-Jewish measures based on Germany's Nuremberg Laws. These laws excluded Jews from most aspects of Italian life and would facilitate future deportations. They also marked the tightening of the alliance with Hitler's Germany.
On June 10, 1940, Italy entered the war and in October Bartali was called to active duty. He was assigned to be an army messenger, and allowed to use his bicycle for his missions, Bartali was able to continue training and racing for the next three years. The summer of 1943 was a pivotal moment for Italy. Mussolini was overthrown in July. In September, the new government signed an armistice with the Allies. Germany invaded the northern regions of the country, including Tuscany and Umbria.
With the German occupation, conditions for the Jewish population grew much worse. But in September 1943, Italian Cardinal Elia Dalla Costa asked to meet Bartali. Dalla Costa had been secretly aiding thousands of Jews seeking refuge from other European countries, through the network initiated by Rabbi Nathan Cassuto. The fugitives needed falsified identity cards. Dalla Costa asked Bartali if, under the cover of his long training rides, he would carry counterfeit documents and photos in the hollow frame of his bike. Bartali cycled from Florence through Tuscany, Umbria and Marche, many times traveling as far afield as Assisi, all the while wearing the racing jersey emblazoned with his name.
Bartali knew those roads well and his need to train provided an ideal alibi. Sometimes Bartali was accompanied by his training companions, who were unaware of his activities. When stopped at checkpoints, Bartali engaged the German guards in conversation about cycling. He asked them not to touch his bicycle, telling them that the frame and all the parts were adjusted in a special way to suit his racing style.
Bartali used to leave Florence in the morning, pretending to train, and rode to Assisi where many Jews were hiding in the Franciscan convents and nunneries, and in the cellars of churches. He collected their photographs and false documents and rode back. Bartali also used his position to learn about raids by the Germans on safe houses. By coincidence, shortly after he started his underground activity, Bartali was asked to hide a Jewish family whom he knew well, because they lived next door to his own family. Giorgio Goldenberg, his wife, and their son hid in Bartali's cellar until Florence was liberated. Bartali continued working with the Assisi Network. In 1943, he led Jewish refugees towards the Swiss Alps himself. He cycled, pulling a wagon with a secret compartment, telling patrols it was just part of his training.
As the war progressed and cycling races were cancelled, Bartali's cover began to appear less credible. In July 1944, Bartali was interrogated in Florence, where local Fascist officials imprisoned and tortured their prisoners. Fortunately, one of Bartali's interrogators happened to be his one-time army commander, who convinced the other interrogators that Bartali was innocent of any charges.
In spite of many threats, Bartali did not reveal what he had done. Even after the war he never boasted about his merits. He used to say: "The good is done, but it is not said. And certain medals hang on the soul, not on the jacket."
Bartali was drained by the events of the war and by his underground activities, and he had to struggle to regain his mastery of cycling. But he went on to win the Giro d'Italia in 1946, and with a stunning performance in the mountains of France, he won the 1948 Tour de France again, 10 years after his first victory.
For many years after the war, Bartali did not speak about his role in saving hundreds of people, sharing just a few details with his son Andrea.
Our ride from Florence to Assisi was the brainchild of Ran Margaliot, former Israeli cycling champion, and professional cyclist with European teams. Ran knows the Italian cycling scene well and speaks fluent Italian. It was his idea to commemorate the memory of Bartali by doing a ride along the exact route that he took in 1943.
Margaliot first learned about Bartali in 2007 when he was recruited to help get Bartali recognized as one of the Righteous Among the Nations by Yad Vashem. It was only after his death in 2000 that Bartali's rescue activities came to light and he was recognized in 2013.
The ride took place on Sunday, September 8 and it was obviously a mammoth task for us amateur riders, so I arrived in Florence the previous Wednesday. We were issued with top class racing bikes, and had two days training round the hills of Florence to get used to the Italian roads and drivers. We spent Shabbat in Florence, and my hotel was situated close to the magnificent Florence Synagogue, and the kosher restaurant next door.
We set off from the synagogue at 7am on Sunday, together with our support vehicles, the task being to arrive in Assisi late afternoon where a reception party was awaiting us. We were joined for part of the way by ten teenage riders and their trainers from the Bartali Youth Leadership School. The weather was mainly sunny and cool, but it turned rainy and wet in the hills and this slowed us down. We were all wearing the same Bartali cycling jerseys, and it was amazing that his name is still recognized and remembered by the locals, who applauded us and called out "Bartali" as we went by.
We rode south through the beautiful countryside of Umbria, via Arezzo and Perugia, until we arrived below Assisi by about 6.30pm. We rode up into the medieval town, through the narrow streets and porticos, and finished outside the Basilica of Francis of Assisi where we were met by the mayor and welcoming party. Medals were handed out and speeches made.
After helping Bartali gain recognition, Margaliot came to know Bartali's family, and with them organized several initiatives in honor of Bartali's legacy. That sparked the idea to create the cycling school, a commemorative institute that would truly represent the values Gino Bartali believed in.
The Gino Bartali Youth Leadership School in Israel, located in the Ben Shemen Youth Village, is open to youth of all nationalities and religions. Their mission is to use cycling development as a way to bridge cultural divides and celebrate diversity, and as a way of teaching valuable life skills like self-discipline, teamwork, and leadership, as well as to create accomplished scholars.
"We see Bartali as an exceptional role model, both on the bike and in life," says Margaliot. "This special initiative, focusing on education, diversity and inclusion of youth from all across society, is one that Bartali would have been very proud of."
While the program is looking for its students to do well in cycling, it's also focused on developing their dedication to doing good in the world.
For as Bartali once said, "Some medals are pinned to your soul, not on your jacket."
Comments
1 Lovely article. Few things move me more than learning of the bravery and heroics of the 'righteous'. Thanks, Laurie - keep pedalling.
Lovely article. Few things move me more than learning of the bravery and heroics of the 'righteous'. Thanks, Laurie - keep pedalling.