Bake the World a Better Place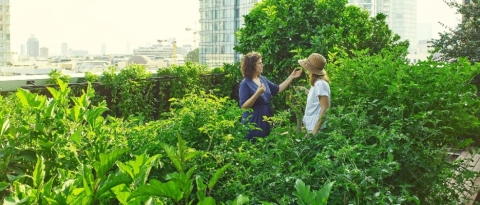 Asif, an organization devoted to local cuisine, is a showcase for food of the present, past and future in Israel
Bring up the subject of Israeli cuisine, and you're venturing into dangerous territory. What, after all, is Israeli about the food we eat?
Falafel, for example, is absolutely Israeli, right? Nope, it's Egyptian in origin. Shakshuka? Tunisian. Rugelach? Polish. So-called "Israeli salad'? Adopted from Palestinian farmers. Kugel Yerushalmi? Well, yes, that is in fact, local, but just about everything else we eat here is part of a culinary melting pot from all over the world.
Does that mean that the foods we regard as Israeli are merely examples of cultural appropriation? Perhaps so. The truth is that pretty much all Israeli food, in its richness and variety, basically originates from somewhere else.
But as Naama Shefi, a founder of the New York based Jewish Food Society, and one of the founders of Asif, a non-profit organization devoted to local food, has written, that isn't the total picture. In fact, Israelis have made food that comes from somewhere else distinctively their own. For example, "a quintessential Israel dish, in my view, is pita with schnitzel and French fries inside, and with zhug, arisa and pickles – a combination of items that came from all over the world." Where else but in Israel are you going to find that yummy combination?
The debate about Israeli food may be why when Asif opened a year ago, it didn't define its brief as celebrating Israeli food. Instead, it is devoted to "cultivating and nurturing Israel's diverse and creative food culture." The aim is to "explore local food culture and provide a home for research dialogue and a wide range of culinary experiences." A broad focus indeed!
Asif (the name comes from the Hebrew word for 'harvest' and also means "gathering') is a joint venture of the Jewish Food Society and Tel Aviv's Start-Up Nation Central, with the help of donors, particularly philanthropist Terry Kassel. Located in Start-Up Nation Central's glossy premises on Lilienblum street, in a fashionable part of Tel Aviv, it includes a café restaurant (not kosher), operated by Puaa Group in Jaffa, an exhibition space, extensive library, test kitchen, hosting space and a rooftop garden, run in cooperation with the Volcani Agricultural Research Organization.

But local food, say Asif's founders, is more than just nourishment. It has its roots in history, identity, gender, technology, community. What we cook is a story of time and people. It is evolving. These are all things that Asif is attempting to document and develop.
The Asif library, for example, has some 1500 volumes, many recommended by chefs and historians. They are not just cookbooks from around the diaspora, but also books about technology, agronomy, history, global food and literature, including many rare books. (Sadly, they are just for browsing, not borrowing, although holdings are digitalized, and there are plans to digitalize magazines.) There is an interesting internet site as well, with recipes, interviews and discussions. An Ethiopian brunch? You'll find "how to" here.
Asif is open every day except shabbat and runs tours on Fridays, in both English and Hebrew, for which they charge NIS 40. I took the tour, which lasted over an hour and included a delicious tasting of hasawi bread, made that day, with sauces including shifka, fermented chili, schug with almonds, zaatar with olive oil, and apricot jam. Of course all the herbs and veggies came from the rooftop experimental garden, the highlight of the tour.
It's not just that the garden features heirloom and modern strains of herbs and vegetables; it's that it covers every surface – vertical as well as horizontal. It expands the idea of what a garden can be. To enter the garden, the visitor passes a wall of scallions, leading to a flourishing abundance of greenery of every description – figs, many varieties of zaatar, peppers, and much more.
It all gives the impression of abundance and plenty. And while the existence of an indigenous cuisine may be debatable, a visit to Asif demonstrates that Israeli food, in all its many manifestations and multi-cultural roots, is certainly alive and well.
Flour power: "A City, Wheat, Bread"
Bread in 17th Century Jerusalem

The third exhibition to be staged at Asif features an in-depth study of bread in 17th century Jerusalem and highlights the diet staple of that time and place. The exhibition runs until the end of 2022.
Jerusalem in the 17th century had about 10,000 residents, mostly Muslims with minority of Christians and Jews. Their diet centered around grains, fresh fruit and vegetables, olive and sesame oil, with bread central, as researchers have found from reading court records of the time. Preparing bread involved many people in cultivating, harvesting, grinding, kneading and baking dough.
There was a social aspect as well; people met at communal ovens, which were used since firewood was scarce, and they became a center of community life.
Bread of the time didn't look like our bread. Traditionally, it was flat, often with intricate braided designs which had ritual significance and marked with bread stamps to identify the bakers. Stalks of braided grain were woven into stylized braids, symbolizing thanksgiving and talismans for a good harvest. Asif researchers worked on restoring ancient grains and breads, as well as designs and stamps, while the exhibition also includes modern stamps designed by students from Shenkar.
A Rosh Hashana recipe from Asif
Beet Salad in Date Honey and Pomegranate Molasses
Ayelet Latovich
4 beets, cooked (poached or roasted) with the skins, peeled and finely grated
2 Granny Smith apples, peeled and finely grated
5 green onions, thinly sliced (both the white and green part)
½ cup roasted almonds (unsalted), coarsely chopped
For the dressing:
1 teaspoon ground Persian lime
1 Pod of cardamom, lightly crushed
2 tablespoons fine pomegranate molasses
1½ tablespoon date honey (or date molasses)
¼ lemon, juiced
Salt, to taste
Ground black pepper, to taste
¼ cup /60ml Koroneiki or other mild olive oil
Prepare the sauce: Place all the ingredients in a jar and shake well.
Prepare the salad: Place all the ingredients in a bowl and mix well, reserving a handful of chopped green onions and almonds for serving. Add the dressing and mix well. Transfer to a serving bowl, sprinkle the rest of the almonds and onions and serve.
Comments
No comments made yet. Be the first to submit a comment