"The Martin Sinkoff Wine Interview" with Yael Lev Avidor and Gali Feigin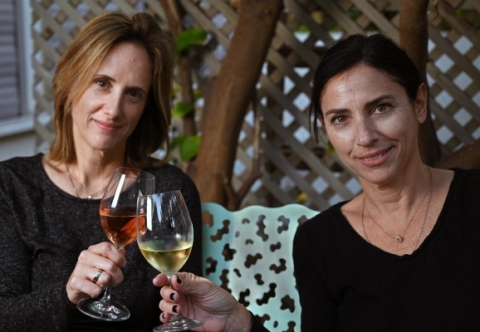 DeVine is one of the most innovative wine companies in Israel. It was the first local wine merchant to offer wines by subscription, which is common in the United States and in the United Kingdom. Prestigious wine clubs such as the Wall Street Journal Wine Club and important wine merchants like Kermit Lynch Wine Merchant (California) have also created wine clubs, but Israel, DeVine was the first to do so.

Yael Lev Avidor and Gail Feigin, dynamic businesswomen who run the company, have brought special knowledge and creativity to the Israeli wine trade and community.
Where did you each grow up? Tell us about your families.
Gali: I was born in Israel but grew up in Chicago. I went to high school and university in Israel, but then moved back to Chicago for graduate school.

Yael: I was born in Israel and spent some time in Thailand between the ages of 4-6. Not that I can remember a lot of my time there, but it is always a nice anecdote.
What did you each study in university?
Gali: I studied law at Tel Aviv University and business at the Kellogg School of Management. My career was in tech marketing and business development, before starting DeVine.

Yael: I was a CPA and then did my MBA at the Kellogg School of Management at Northwestern University. I worked at the Johnson & Johnson medical device division in Cincinnati. When I returned to Israel I continued in the pharma-medical devices industry in different roles, including CFO and Business Development.
We both went to Kellogg but not at the same time. We met each other through mutual friends and at alumni events. We also lived in the same neighborhood, so we ran into one another often.

How and why did you decide to get into the wine business?
We both love wine and saw a market gap when we moved back to Israel after several years in the US. There, we saw how popular wine subscriptions were and were surprised that they did not exist in Israel. We decided to look into it and saw an opportunity to start one.

Tell us about DeVine. How does it work?
DeVine started in 2013 (We will be celebrating our 10th anniversary this year!) as an online-only business offering wine subscriptions. Our customers sign up for our wine subscription program and get a bi-monthly case of wine with hand-selected wines from various wine regions and from various varietals. Our customers tell us how much they wish to pay for their subscription (we have two tiers). They select a tier and how many bottles they wish to buy and then we select the wine. We are able to offer a very broad selection, thanks to our exclusive relationship with the largest wine club operator in the world which has buyers in most wine regions of the world. We import our selections, package and ship them directly to the consumer with printed tasting notes.

In addition to the subscriptions, we have an online store with a wide range of imported and Israeli boutique wines.
What is the relationship of DeVine to other famous wine clubs such as the Wall Street Journal wine club and others?
We are the exclusive Israeli partner for a large UK company, based in London, that supplies several wine clubs all over the world under various brands.

How do you select your wines? And what do you look for?
We look for good quality and good value and a wide variety. We want to make wine easy, fun and not intimidating. We want wine to be an everyday experience and to expose people to wine from different countries and varietals, especially those they have never heard of. Our tasting notes explain where the wine comes from, why we chose it and with which food it pairs.

Our selection process is divided into two parts: first, we review a large list of wines from all over the world that our supplier sends us. They import hundred of wines that change all the time. From that list, we select wines that we think will be interesting to our customers for quality and value. Second, we taste the selected wines with Jessy Bodec, a renowned and highly awarded sommelier here in Israel ("best sommelier in Israel 2005") and our staff, and choose the wines we think are best for our customers. We try to select an eclectic mix of wines to keep the interest of our customers. Our subscription programs give our customers the opportunity to taste, to explore, to enjoy and to learn about wines they might not explore otherwise. And, we must add, it is a no-hassle experience. The wine is delivered to you. No need to drive, park or carry heavy bottles of wine.
Please select two wines, one from each of you, and tell us about them.
We selected Rocksand Shiraz 2020 from Portugal because it's a crowd pleaser. It's perhaps the most popular wine on our site and what you might expect from a warm climate – fruity, full and smooth. We also selected Saint Andre Chardonnay 2020 from France. It's our personal preference: a crisp Chardonnay with no oak and this one is a great example! We sell both wines for NIS 75 per bottle.

How can readers get in touch with you?
website: www.devine.co.il
email: This email address is being protected from spambots. You need JavaScript enabled to view it.

Tel: 03 544 5130
Author's notes

I tasted both the Saint Andre Chardonnay 2020 and Rocksand Shiraz 2020 late one morning before enjoying them side-by-side with a very delicious semolina pita filled with sabich. Both wines were perfect with my lunch. The Saint Andre Chardonnay is delicate and refreshing with lots of flavor. The French call this kind of wine "gulpable". Drinking a full bottle at lunch or dinner would be easy. The Rocksand Shiraz 2020 is also, as Gali and Yael describe, a crowd pleaser: rich, full of flavor and soft. It is also very interesting. Shiraz (Syrah) is not a Portuguese variety. Yet the wine is from Portugal. And so, the wine unites flavors of the northern Rhone, Australia (famous for Shiraz) and southern Europe (Portugal). In short both wines are terrific.

Comments
No comments made yet. Be the first to submit a comment