Aftermath of the Earthquake in Turkey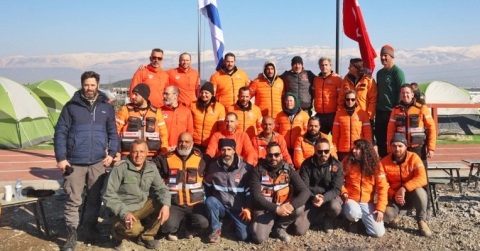 Israeli Doctor Keren Moss at the Aftermath of the Earthquake in Turkey
Two devastating earthquakes registering 7.8 and 7.7 on the Richter scale hit Southern Turkey in the early hours of Monday 6th February. Some 36 hours later, Dr. Keren Moss, who lives in the South of Israel, found herself in Kahramanmaraş (50 kms from the epicenter) as part of an Israeli Medical Rescue Mission.

Hi Keren – so tell us how you got roped in to going to Turkey and assist in providing medical assistance to the relief operations?
I'm a physician by profession and a volunteer with United Hatzalah. On Monday evening, Hatzalah sent out a message around 7:00 pm asking for volunteers for the mission in Turkey, specifically looking for paramedics and physicians. I registered my name and waited; nothing happened and then I went to sleep. At 11:00 pm, I got a phone call asking me if I was willing to join the delegation, to which I responded affirmatively. I started packing and the following morning I was on the train from Beer Sheba to the airport.
El Al laid on a special flight and after loading 10 tons of equipment I, as part of a team of 25 volunteers from United Hatzalah, 10 volunteers from the Israeli Search & Rescue units, and media people, made our way to Turkey, landing in Gaziantep – 50 kms from the epicenter of the quake on Tuesday evening.
Did you know where you'd be heading to when you left?

When we left, we were not sure where we would be going and a lot was unknown as to what exactly we would be doing. In fact, initially we thought we would be going to Hatay, but we ended up at Kahramanmaraş. We knew we would be providing medical support to search and rescue teams but that was it. We were in the hands of the Turkish authorities and they would direct us accordingly. In fact, things changed on a daily basis in accordance with needs on the ground.
Had Hatzalah been involved in similar missions outside of Israel?
Hatzalah had previously been involved in providing medical and humanitarian support in Moldova in response to the crisis in Ukraine. It's not part of Hatzalah regular missions but in the past, for example, they had sent help to the earthquake in Nepal.
What did you see around you when you arrived in the town where you were going to conduct relief operations? Give us an idea of the degree of devastation as you saw it.
On entering the town, the extent of the devastation became apparent. We saw mangled cars hit by falling debris and masonry from collapsing buildings, mounds of debris where there was once a building, a car dealership with shattered windscreens in its parking lot. The town had been a regional agricultural center so we saw huge collapsed grain silos. The devastation was horrendous, buildings left half standing next to buildings that had simply collapsed like a pack of cards.
What did you end up doing?
The United Hatzalah team comprised both medical personnel and civilian volunteers from the Israeli Search & Rescue Units – people/engineers who had knowledge and previous experience in handling earthquake related search and rescue efforts. A lot of our work was done together with the IDF Rescue teams on the ground providing medical support to people rescued from the rubble of collapsed buildings. Additionally, we gave medical aid to some of the residents that were in need, as well as medical support to members of the team with respect to minor injuries incurred during their operations.
I know it must be difficult but was there a high point in your mission?
One of the rescues I was involved in was the rescue of a 7-year-old girl who had been trapped under the ruins of a building for 70 hours. There was this immense pile of building material and somewhere in the rubble there was an opening leading to a small tunnel through which one had to crawl, over blocks of concrete and metal, to reach a child who was at that stage pinned down by a big concrete slab. But she was alive and talking. I don't know how I managed to get into that space and administer medical treatment but more importantly she was eventually rescued alive thanks to the efforts of many rescuers involved. She had an injury but it was not life threatening.
I know it's not your area of expertise but how do they manage to locate survivors?
I believe initially the Turkish authorities sent out messages via mobile phones and registered the responses of those trapped and still alive. Later on, it was often the relatives of the victims who congregated around the ruins of where family and friends had previously lived in the effort to try and communicate with them. Heavy rescue equipment would sometimes come across openings leading to spaces where potential survivors could be trapped. In addition, specially trained dogs, thermal cameras and special listening equipment were deployed. Every now and then a whistle would go out to everyone around to keep silent. It was amazing to see how hundreds of people milling around would stop dead in their tracks, heavy equipment would halt work and then total silence in the hope that a living sound would be heard. You'd see a huge city block frozen in complete silence except for the attempts to make contact with prospective survivors.
What contact did you have with the local population?
When the locals learnt that there was an Israel Rescue team in town and it became known that that the Israeli mission had begun extracting and rescuing people alive from the ruins, they approached us directly to come and help rescue family members trapped in other locations. Even though often the team was unable to locate survivors, it became very meaningful for the local populace to have someone respond to their call for help, bringing equipment and making every effort to locate and rescue loved ones. There was definitely a language barrier but no sooner had we arrived when two volunteers turned up of their own volition and joined us as interpreters throughout our stay.
When did the mission decide to leave?
We spent 6 days on the ground near Gaziantep and suspended our mission when the authorities brought in heavy equipment to clear building rubble on a large scale. We realized that we were not going to be finding anymore prospective survivors at that point in time.
Before we left Turkey, we asked the local population what they needed most of all – the answer was mostly tents. So, the plane that flew in to return us to Israel brought a plane load of tents for the locals. We also left behind all our blankets and medical equipment for the local population to use.
Where does all the funding come from that supports this kind of effort?
The ability to send out the mission immediately after the earthquake is the result of the many generous donors in Israel and around the world that support United Hatzalah activities.
Where do you live in Israel and what do you do?
I live in the south of Israel and after having moved there with my family, I joined United Hatzalah in 2016. We live in a rural community and the response times for emergency medical situations was problematic. I belong to a local "Quick Response Medical Team" who provide emergency medical support when needed.
You are still left processing what you went through?
Yes, in fact just the other day I got together with some of the team to talk things over. On a personal level, this was an experience that will be with me for many years to come. With all the hardship experienced, I am very grateful for being able to be there and work alongside the many professional members of our team, and the larger Israeli IDF team. I have also been retelling my experience and stressing the importance of volunteering. The entire mission was based on volunteers. I've been introducing people to the work we do at United Hatzalah, its importance and how we need their support.
14 million people, 16% of the Turkish population, were affected by the earthquake which killed more than 46,000.
Comments
No comments made yet. Be the first to submit a comment