Isabel's Bells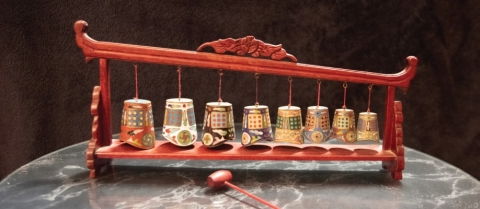 Before I retired from Reichman University (then, IDC), my students would have a party at my house after their final exam and inevitably there were questions about why I collected so many bells. I always said to them "Figure it out" and most of them did…but a few couldn't.

When I was 14 years old, my birthday gift from my parents was a trip to California to visit my dad's brother and his family (we lived in New York). My uncle and aunt took me to Calle Olvera, the delightful, historic Chicano open market in Los Angeles. My uncle said to me, "With a name like yours, you should never buy insignificant souvenirs" and he bought me the first two bells in the collection that now contains 125 bells from all over the world: a ceramic Chicano altar boy holding a candle, and a brass bell with a bird on top representing "the swallows returning to Capistrano". Unfortunately, after many moves including my aliyah, the altar boy was broken, but the Capistrano bell is still with me after more than 60 years, and is now joined by several other bells with birds on top.
The most valuable item that I own is a gorgeous silver bell on a matching plate that I purchased in an antique shop on the Ponte Vecchio in Florence on my first trip to Italy. I loved it but it was very expensive, and I was very young. The dealer showed me the hallmarks and other markings on the two pieces; he said they were created in sterling silver by an 18th century Florentine artisan. I was still hesitant, so he told me to write a check dated after I returned to New York where the bell could be checked by an expert. Then, if it wasn't what he'd said it was, I should cancel the check and send the bell back to him.

My parents knew a master silversmith who checked all the hallmarks and markings; he verified the authenticity of the bell but told us the antiques dealer had made three mistakes: (1) the bell wasn't sterling silver, it was Continental silver – 800; (2) it wasn't made in Florence, but in Spoleto (Umbria) by a famous silversmith, and (3) it wasn't 18th century – it was dated 1685, thus 17th century. My parent's friend told us the bell should probably be in a museum.
In addition to bells from various American and Canadian cities – Kokopeli, the Hopi humpbacked flute-playing Casanova, from Flagstaff, Arizona; from Toronto, a grandma holding a cookbook while grandpa is reading a book – I have quite a few bells from all over Italy (Rome, Capri, Naples, Siena, Verona), Paris, and a tall stork "delivering" a tiny baby bird from Nice.
I have bells from Berlin, Helsinki, Stockholm, Oslo, Budapest and Vienna, and a bell with an ivory man that the Globe Theatre in London claims was Shakespeare. Quite a few bells are shaped like women: a little Dutch girl holding two pails from Amsterdam (See picture 6); a good witch from Dublin, a black witch – a bruja – from Barcelona and the young infanta from Madrid; a woman holding a candle from Copenhagen (See picture 8); a strange woman with a very long neck from somewhere unknown, and a straw doll holding a straw bell – silent of course – from Minsk. There's a heavy metal fish from Japan with a deep clang, and a carillon of cloisonne bells in descending size from China.
Friends and family have given me bells from their travels – and I treasure all of them: not a kangaroo or koala but a tiny snowman from Australia; a wooden cat with its tongue as the clapper, from a visiting colleague from New Zealand. Friends who accidentally broke a bell I'd purchased in Prague gave me a Bohemian cut-glass bell to complement another blown glass one, and also a unique bell crisscrossed in gold.
At the U.S. Wrecking Co. in Connecticut, I purchased an old hotel bell so loud it could probably wake up not only the sleeping clerk but also the guests on the third floor of the building that had been razed.
NOVICA.com, an e-commerce website, was founded in 1999 by a few Stanford sophomores who later partnered with National Geographic, to help artisans in developing nations (e.g. Ghana, Bali, Singapore, Thailand, India, Peru and Mexico) sell their handicrafts throughout the world; I have NOVICA bells from Peru –– two hanging groups with six bells each: musicians and angels. My two latest NOVICA bells – a man in teal and a woman in purple are from Uzbekistan.
I know my uncle and aunt would be pleased with the bell collection they started for me.
Comments
No comments made yet. Be the first to submit a comment