I am a Runner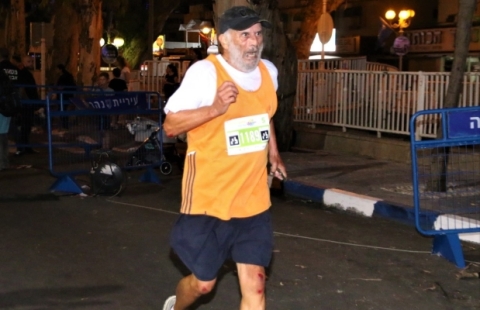 Faith Based Running
In the weekly Torah portion entitled "Vayeishev" we have Joseph looking for his brothers in a place called Dothan. This took me back to a race I ran some time ago:
I am a runner, have been one for 40 years or more. Not too fast… and half marathons are my top distance, but a runner, nevertheless.
Being a runner there is a verse in the Talmud from Bava Kamma 92b that I particularly enjoy:
אינשי שיתין רהוטי רהוט ולא מטו לגברא דמצפרא כרך ואמרי
"And some say: "Sixty runners ran, but they did not overtake the athlete who ate breakfast in the morning."
In the discussion between the Sages, it is said that this Talmudic verse is derived from Isaiah 49:10:
"They shall neither hunger nor thirst, nor shall the heat and the sun smite them, for He Who has mercy on them shall lead them and by the springs of water He shall guide them."
These words seem to parallel some verses in Psalm 121, another favorite of mine. They are equally supportive of the runner –
1. A song for ascents. I shall raise my eyes to the mountains, from where will my help come?
3. He will not allow your foot to falter….
6. By day, the sun will not smite you, nor will the moon at night.
8. The Lord will guard your going out and your coming in from now and to eternity.
I took particular solace in this Psalm, the verses from the Talmud and from Isaiah during a very hot 10-K race. This race started from the Samarian city of Dothan where Joseph was looking for his brothers. For some reason the race began late and not as scheduled. By the time we reached the race's halfway point it was already nightfall. Because of the shoulder's unevenness I ran on the edge of the road and stumbled on a reflector but luckily regained my balance. There was oncoming traffic and it was becoming a little dangerous. And to add to this mix, just around the bend, looming up ahead on a long steep rise was the Arab hilltop village of Imreihah.
The road began to wind; the hills began to climb, and those hills were a killer, and so was the heat. My breathing was ragged; I was thirsty, my mouth was dry, and the muscles in my thighs were screaming. Imreihah may have been quaint, but I could not see much in the dark. I could, however, make out the sullen faces of Imreihah's residents. They lined the road; I'm sure that the least they wished for was that we would be gone, and they were definitely not happy to see our military escort…life in the Territories.
The race soon concluded. I was elated, probably a dopamine high. There was plenty of water, popsicles and apples. I was drenched in my own perspiration and sucked down a couple of bottles of water in short order. For two more hours my mouth was dry and I kept on drinking. On the train ride back to Nahariya, my home town, I got to thinking: I had raised my eyes to the mountains, where did my help come from?
It's a no-brainer; you know the answer.
Comments
No comments made yet. Be the first to submit a comment