Readers Letters - April 2020 Issue 204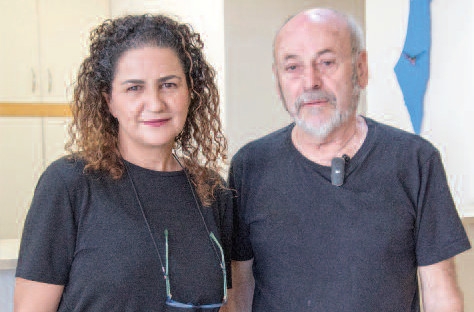 Anything to say? Comments about this issue? We'd love to hear from you. Send emails to This email address is being protected from spambots. You need JavaScript enabled to view it. or write to: Letters, ESRA Magazine, PO Box 3132, Herzliya 4613002. Letters will only be considered for publication if you include your name, address and phone number. The Editor reserves the right to trim letters where necessary.
Your pages brought back so many memories
Thank you for printing my 90th birthday poem. I received some very positive comments and phone calls. I'm slowly getting used to that BIG number.

This past Tuesday I was at the office at 8am for labeling and bundling the magazines #203, distributing my bundle and bringing my own copy home.
As I was reading it brought back so many memories. I was saddened to read that Channi Hurwitz had passed away. Many, many years ago I worked for her and Valda Oken in their slimming salon in Raanana as their massage therapist. In that capacity, I was invited by Channi to join a group of ESRA members on a trip to Eilat. My job was to give each participant a one-half hour massage as part of this trip.
Other happy memories were evoked by the article about Rose and Hymie Segal. Long ago when they were living in Herzliya B (on Nordau Street) I came on a once-a-week basis to give Rose's mother an hour of physical therapy. She was a most delightful little lady and it was a joy to work with her. A number of years later, my late friend Henry Blanks and I were among Rose's group of volunteers delivering ESRA's Meals on Wheels - a job I was sad to leave when Beth Protea ended this activity.
This latest issue of the magazine #203 is another excellent production, full of interesting articles and a pleasure to read.
Inge David
Herzliya
She's a 'poet' and we should have known it
I was upset to read, on page 18 of ESRAmagazine #203, February 2020, that Hannah Senesh was a poetess. Fortunately, on page 30, I found an article where it was written "our poet, Rachel".

I am somewhat comforted.
Is it possible for proof readers to be told that added "esses" should be cut?
Julia Kruger
Tel Aviv
You're just the job, Bob –many happy returns
Thank you for being the incredible person that you are. There are so many important things that our pupils have learnt from you. You enrich their knowledge with riddles, idioms, and interesting articles which they really enjoy.

Their reading skills are improving and their confidence growing with each session, even the ones that struggle the most.
You have the wonderful ability of meeting each child at his own level and working forward from there.
The children are so lucky to have you as a tutor, and so are we. We appreciate you and everything you do.
Principal Inbal Fleishman and Yehudit Dayan
Dekel School, Raanana
Says Bob: The letter was given to me on my 88th birthday, along with cakes, songs, dance and a celebration organized by the kids and teachers.
Worldwide response to feature about kidney transplant
In the last issue of ESRAmagazine (February 2020) there appeared an article written by Ruth Shakenovsky about my husband Isaac celebrating 20 years since his kidney transplant. His sister Adele, the donor of the kidney, placed the article on her Facebook page and soon thereafter received greetings and complementary messages from friends scattered all over the world, many with whom she hadn't communicated in years. We, too, were congratulated by friends on Isaac reaching this wonderful milestone.

We hope that the success of Isaac's transplant will encourage others to volunteer as kidney donors. There is no more rewarding gift that one came make than agreeing to donate an organ to a person in need.
Maureen Lipschitz
Tel Aviv
Hospital built in a week? Can we have one, please?
I see that an emergency 1,000 bed hospital has been built in China in just eight days to treat patients suffering from coronavirus.

And another hospital has gone up 25 miles away, this one with 1,600 beds, also in a week or just under.
I wonder if the Chinese construction workers responsible would like to come to Israel and build one in Modiin where, shamefully, the population of about 100,000 does not have a hospital to cater for them.
Anthony Green
Modiin
Bookshop customer Carl had us transfixed with his amazing life stories and tales

For most of the 16 years I worked in the ESRA Raanana Bookshop in Beit Fisher, I and my co-workers had the pleasure of Carl Hoffman's custom. He came into the bookshop three or four times a month and it was a joy to serve him. He always wanted books that we knew no-one else would be interested in, and we often put books aside for him to browse through when he next came in. It wasn't easy for Carl to climb the difficult two flights of steps into the shop, but he always managed even if somewhat breathless.

Carl very rarely stayed less than an hour when he visited and during that time he entertained us with his amazing life stories. A fantastic sense of humor, with a superb command of English, we would be transfixed by all his tales. It mattered not whether he bought any books – just his presence was enough!
Apart from his many literary friends, I know he will be sorely missed by ESRAmagazine and the bookshop volunteers.
I would like to send his wife, Agnes, of whom he spoke so fondly and her children, my sincere condolences. May he rest in peace.
Cynthia Shapiro
Tel Mond
Anglos play an outstanding role teaching English to Israelis
While I am not an active ESRA member, I do enjoy receiving your magazine and admire your efforts at improving the welfare of communities at large.

I am particularly grateful for your interesting and informative articles which I use in a weekly "let's improve our English" group that I run for Israelis who wish to better their spoken English. By reading these articles, not only do the participants have the opportunity to appreciate straightforward, well-written English texts, but they also learn about the extraordinary voluntary work undertaken by so many of your members.
I think it important that native Israelis realise the outstanding role played by Anglo immigrants, who contribute both their time and talent to improve the lives of both individuals and communities in so many different and varied fields.
Thank you ESRA.
Vivienne York
Petach Tikva
Thank you, ESRA Five Towns, for the much-needed help
Thank you so much ESRA Five Towns for the scholarship of NIS 5,000 you gave me for my studies.

I am currently studying at Ruppin College, on a track called "From Ruffin to Career". This course is a unique course that helps students with ADHD to study and to get a professional certificate with the specific adjustments that the student needs. For example: classrooms with few students, exam adjustments and the like.
As this program is very unique and in great demand, it is very expensive. Because of my family's financial situation - my father is disabled and lives on Social Security and is the sole earner, and my mother had a car accident and therefore not working, it was very difficult for me to finance my studies as I also help my family financially. It was very important to me to study and develop myself in the career field so that in the future I could get a decent job that would benefit me. Thanks to your help I can continue my studies and advance my professional future. Your help is part of my success so I thank you very much. You give a lot of hope and drive to students who don't always have the financial ability.

With great thanks and appreciation,
M. A.
Where medical staff of all origins work together hand in hand
According to the organization StandWithUs, 35 percent of all doctors in Israel are from the Arab sector.I have had five operations in Tel Hashomer hospital over a period of 10 years. I almost feel like a member.Arab doctors have treated me with utmost care. I want to draw attention to this because of the "hate mail" on Facebook towards the Arab population. Many of these doctors live in the West Bank and despite their hardships still manage to give humane attention to their patients. We should not judge people collectively.
I had an Arab woman anesthetist who was very kind and gentle in her search for my veins, something I'm very fearful of prior to an operation. Telling me not to worry, she would find them with the help of a special magnifying glass. The Russian nurse Takinke told me she would be "my personal nurse" during the operation. Those words were very calming and subdued my fear about the operation.
The day I left Tel Hashomer, I was given one hour's notice from Beit BaLev, a rehabilitation home in Raanana, to be ready for the ambulance that was collecting me. I got into a flap. You'd have thought I was going searching for my diamonds. Ruti, a nurse from Brazil, on witnessing my outburst brought me a glass of water and holding my arm took me for a walk down the passage, reassuring me all the time the positive aspects of leaving the hospital.
Having no time to say goodbye to the staff was one of my dilemmas. Then the head nurse, an Indian lady, came to reassure me and attended to me with me the utmost kindness despite herself being under pressure to have my discharge papers ready.
The ambulance driver arrived to collect me exactly on time. The Arab doctor who was on duty wouldn't allow me to leave until he'd taken my blood pressure and he told the ambulance driver to wait. The doctor arrived with the blood pressure machine, on wheels, and took my blood pressure which had jumped sky high from stress, and he made me rest for a while before releasing me from the hospital. The ride took about 45 minutes. On arrival at Beit BaLev, my son received a call from the same Arab doctor who'd taken my blood pressure to find out how his mother was.
All these different nationalities working together hand-in-hand with love, devotion and humanity with Israeli doctors and nurses showed me the humane side for peace.
It is possible!
Thank you Tel Hashomer.
Forda Dubb
Eilat
We were like the proverbial 'Wandering Jew' and then Yona Apartments stepped in and came to our rescue
Our committee, the Netanya Lecture Group, feel we are long overdue in writing this letter of thanks and deep appreciation to the owners of Yona Apartments, Anna Tempellhof and her daughter Marion. We thank them for donating their hall to us on a permanent basis, at no cost. We were like the proverbial "Wandering Jew", moving from hall to hall from one year to the next. Then Yona Apartments offered us a permanent home after Joan Weisman, one of the founding mothers of our lecture group, very persuasively asked them if there was a possibility of us using the hall. Yona Apartments graciously agreed and for the last seven years we have a permanent home. Sadly Joan passed away a few years ago.
We are fortunate to have this wonderful venue where we are always made to feel welcome by the manager and staff. Our heartfelt thanks goes out first for the welcoming smile we receive from Daniella Levi at the front desk when we arrive carrying all our paraphernalia. Daniella is in charge of customer service and this year took over from Idit Bahavad, who was so helpful and is now retired. Thanks also to Ruby Amzalog, the manager and to the former manager, Izik Rozenhak, to Shmuel Rochberger, Maintenance, who always comes to say hullo and to make sure we do not need anything, and to Or Cohen who does the cleaning.
Our lectures have grown in popularity over the years and we are happy to be able to give the residents of Yona Apartments an opportunity to come and listen to our quality lectures.
With thanks one last time to the helpful Yona Apartment team that is so kind to us.
The ESRA Committee Team: Ros ben Ezra, Norma Altman, Carole Kaye, Aviva Frydman, Susan Elfersey and Brenda Katten, and our "can't do without shleppers and technical support" Bish ben Ezra and Michael Altman, who assist us.

Norma Altman
Netanya
Comments
No comments made yet. Be the first to submit a comment
By accepting you will be accessing a service provided by a third-party external to https://magazine.esra.org.il/